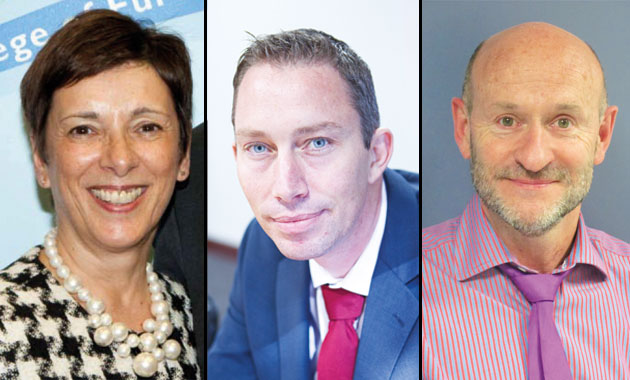 Colleges readying themselves for an impending Department for Education (DfE) policy have witnessed a dramatic rise in the number of English and maths GCSE exams that has left many struggling to accommodate learners.
One college even saw gridlock on nearby roads with bumper learner numbers on Tuesday (June 2) and also had to resort to using its principal's office to host exams.
Elsewhere, principals have hired external venues or partially suspended classes to provide rooms for exams.
The increase in candidates was caused by a DfE post-16 funding policy, due from August, requiring learners with GCSE grade D in English or maths to resit, alongside taking their other studies.
Many colleges piloted the requirement this year — and found themselves overwhelmed not just by booming GCSE numbers thanks to resits, but also clashes with the A-level and vocational exam timetable.
It has left colleges pleading with awarding organisations to change timetables for next year with separate English and maths GCSE days.
Havering College of Further and Higher Education, in East London, saw a rise of 159 per cent in those taking maths GCSE, to 591, while 763 students sat English GCSEs — a 137 per cent increase on last year.
Vice principal Asfa Sohail told FE Week that the office of principal Maria Thompson (pictured) was even commandeered in the quest to accommodate learners.
Every member of staff was also enlisted to invigilate and direct learners to exams, while mini-buses were placed on standby to transport students who turned up at the wrong campus.
Ms Sohail said: "We had to hire external venues, empty out classrooms and use staff offices — literally anywhere we could find."
She added: "We've got students who have failed three times and it's knocking their confidence.
"Government needs to look at improving learners' grades in school — we shouldn't be getting so many through with such low grades."
Meanwhile, East Kent College principal Graham Razey said he "had to effectively close" for three half-days to accommodate 450 candidates in rooms normally used for teaching.
At Exeter College, classes were re-roomed, a community centre was hired and 85 invigilators were drafted in to cover GCSE English, AS-level English language and other non-GCSE exams all taking place at the same time.
Assistant principal Emma Fielding said: "The focus on English and maths is critical, nobody's denying that, but what we would ask is that the policy is properly thought through — to put that expectation on us as a sector with significant funding cuts is really difficult, and for many colleges in the long run not possible."
And New College Swindon principal Graham Taylor said: "Our exams officer wrote to exam boards last year pleading for dedicated GCSE maths and English days because of the sheer numbers.
"They clashed with other 'big ticket' subjects so the logistics were a nightmare."
A spokesperson for the Joint Council for Qualifications (JCQ), which oversees the organisation of GCSE timetables, said: "In 2016 GCSE English/English Language will not be timetabled at the same time as any other GCSE or AS examination.
"For one of the GCSE maths timetable slots this has been possible in 2016 and further work will be taken on GCSE maths timetable slots in 2017 following the introduction of new linear specifications."
A DfE spokesperson defended the incoming condition of funding policy and said colleges were "making good progress" in preparing to implement it.
"It is vital that all those leaving education have high standards of maths and literacy," she said.
"That is why we want all young people who do not achieve at least a C in English or maths to continue studying until they reach that standard."
From left: Maria Thompson, Graham Razey & Graham Taylor