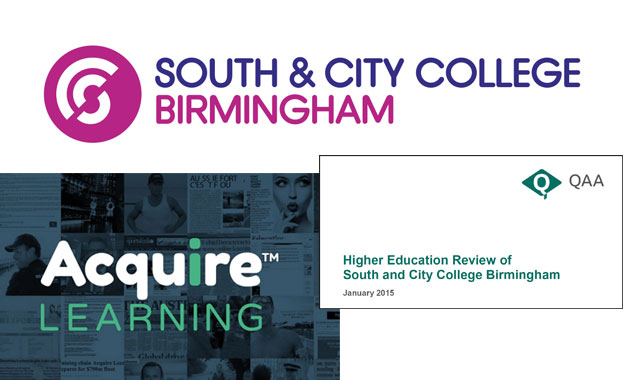 Pearson has stopped registering higher national certificate (HNC) distance learning students at a second general FE college delivering the provision with support from private firm Acquire Learning (AL), FE Week can reveal.
The Quality Assurance Agency for Higher Education (QAA) was critical of the HNC in business course, launched at South and City College Birmingham last October, in a report following a visit in January.
A QAA spokesperson said it was prompted to investigate the course after the Higher Education Funding Council for England raised concerns about its "rapid growth and rolling monthly recruitment (more than 50 per cent of the Birmingham college's first year higher education students had been recruited to this course), and its 1 to 100 staff to student ratio".
The report said awarding organisation Pearson "informed the college in December 2014 that it would be unable to continue to register distance learning students with it until it had reviewed the college, due to the number of registrations".
"However, students began the programme in January 2015 in the belief that their programme was validated by Pearson," it said in the QAA report.
Tim Demetriou, director of AL, denied any wrongdoing and said his company collected extensive information on all potential applicants.
"It is then sent to the college to decide how many of them it wants to take on," he said.
The Birmingham report said the college had an agreement with AL allowing the private firm to oversee recruitment for the HNC using "targeted telephone marketing to advertise the programme to prospective students".
However, it said that the college "did not provide information to the team regarding any monitoring procedures in place to ensure that prospective students… were making an informed decision about enrolling".
It recommended the college should clarify its admissions policy for the course and communicate it clearly to staff and prospective students, ensure all prospective and current students were kept fully informed about their enrolment status. It should also gather and respond better to feedback from students about the HNC.
A Birmingham spokesperson said: "We acknowledge the recommendations made by the review team and have already taken action to address these."
It comes a fortnight after FE Week reported how Pearson had "blocked" a HNC business (management) distance learning course at 6,000-learner grade two Ofsted-rated Sussex Coast College Hastings that was also delivered with support from AL.
A QAA report published earlier this month on the Sussex Coast provision, following inspection in February, also stated that students without standard-entry qualifications were only required to complete a 100-word statement to be enrolled on the HNC and "in the view of the [inspection] team this is not a sufficiently robust assessment tool".
Nobody from Pearson was available to comment on the Birmingham or Sussex Coast courses before FE Week went to press.
However, a spokesperson for Pearson told FE Week two weeks ago that Sussex Coast was not registering students on the HNC "while they work to address the issues identified".
Dan Shelley, vice principal of Sussex Coast, said: "The college has fully addressed the range of issues identified by Pearson.
"This included a revised process which requires a more detailed submission of written work prior to enrolment.
"The college looks forward to a [return] visit from the QAA in early July, where we fully expect all recommendations to be addressed and the pause in enrolments to be lifted."
An AL spokesperson said: "There were some teething issues with this course but the college has made considerable steps to address these. The admissions process is quite robust."