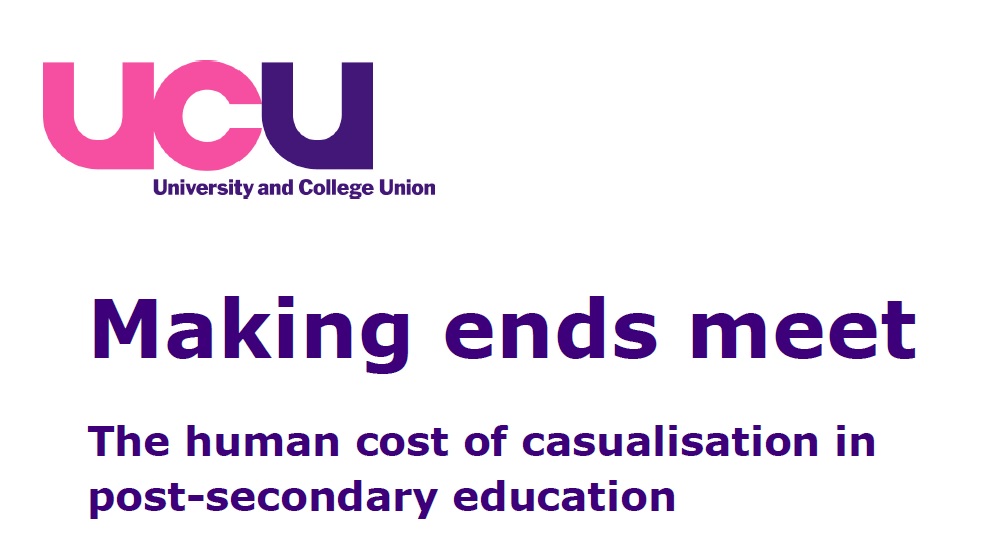 Nearly 40 per cent of FE workers struggle to get a mortgage because of their "casualised" employment contracts, research from the University and College Union (UCU) suggested today.
Its 17-page report, entitled Making ends meet: the human cost of casualisation in post secondary-education, looks at how workers lives are affected by zero-hour and other types of "casualised" contracts, it defines as also including variable with guaranteed minimum hours, hourly paid, fixed term and agency, among others (see below).
Critics of zero-hour and similar "casualised" contracts argue they create uncertainty in the workforce, leaving staff without sick or holiday pay, and make it difficult to get tenancy agreements, credit cards, loans or mortgages because it is impossible to show a regular income. But proponents claim they allow for flexible working patterns and mean employers can take on more staff.
However, the UCU surveyed 696 staff from FE, which included colleges, adult and prison education, and found 32.4 per cent of respondents were on zero-hour contracts (second most popular type of casual contract after hourly paid at 39 per cent) and that 37.8 per cent said their casualised employment contract had hindered them in getting a mortgage.
"The real extent of the problem is far bigger though as many who answered 'no' to the question reported that this was because they had never even tried and knew there would be no point while they remained on a casual contract," according to the report.
The research also looked at whether FE staff had struggled with bills and 56.1 per cent of sector respondents said meeting household costs such as fuel and repairs had been a problem.
The UCU further found that  almost two-thirds (64%) of people work 30 hours or less a week and two-fifths (39%) earn less than £1,000 a month.
Sally Hunt, UCU general secretary, said: "People on casual contracts are unable to plan their lives month-by-month or even week-by-week. One in 10 people cannot even estimate how many hours they work on average each month or what they might earn. That is no way for anyone to live their life.
"Ministers and employers must stop trying to defend these practices as flexible. Any flexibility is not a two-way street and people who want security and a proper contract should be able to get one.
"The high levels of casualisation in further and higher education would shock many students and parents and expose the harsh reality of life in a modern university or college."
The Association of Colleges (AoC) said UCU's conclusions were "concerning" and "not representative" of feedback it received from its member colleges.
Marc Whitworth, AoC director of employment services and policy. said casual contracts were "beneficial for the students, college and employee".
"Colleges have always needed a flexible workforce and they employ people on different types of contracts to respond to the needs of students and the college business," he said.
"These needs include the levels of demand for some courses, covering staff absences and delivering short courses.
"Some teachers continue to maintain employment in their own profession whilst being employed by colleges on a casual basis as secondary employment."
There were 2,551 responses to the survey between January 26 and April 12. More than two-thirds (71 per cent) of respondents (1,787) were from the higher education sector. Only FE respondents are covered in this report.
Ms Hunt said: "Millions of students of all ages now enter our education system, most of them paying considerable sums for it.
"They have a right to expect that they will be given a high quality education delivered by passionate staff who are respected and properly rewarded for their work.
"What many students probably don't realise is that most of them are taught at some point, perhaps for most of their time in education, by people on insecure casual contracts.
"The exploitative use of casualised contracts breeds insecurity, anxiety, stress and forces people to work long hours for poor pay. This report exposes the true human cost of life on a casual contract and shatters any 'aura of prestige'."
Mr Whitworth said the report "makes some concerning conclusions but these are not representative of the discussions we've had with our college members".