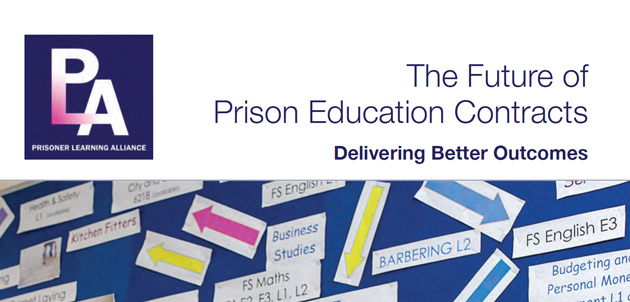 The Prisoner Learning Alliance (PLA) has called on Business Secretary Sajid Javid and Justice Secretary Michael Gove to extend current Offender Learning and Skills Service (Olass) contracts by a year, to July 2017.
A report by the PLA said the extension would allow more time to update the terms of the current Olass4 contracts, so that issues including a 55.5 per cent fall in the number of the prisoners passing level three qualifications can be addressed.
PLA chair Alexandra Marks said: "Improving education in prison is a critical route to reduce the annual £9-13bn cost of repeat offending. We welcome the new Secretaries of State and invite them to seize this opportunity."
The PLA report, entitled The Future of Prison Education Contracts, Delivering Better Outcomes, stated: "We are very aware of the costs and disruption for staff and learners that comes with re-competition.
"To avoid this, we would therefore recommend that the contracts are extended… subject to building in greater flexibilities and incentives to achieve better outcomes."
Only 600 learners passed a level three qualification last academic year, a decrease of 55.5 per cent from 987 in 2012/13, according to the report. It added that 32,400 learners achieved a level two learning outcome last year, which was an increase of 11.2 per cent from 29,928 in 2012/13.
Meanwhile, there were 89,900 Olass learners in 2012/13, which increased by 6 per cent to 95,300 learners last academic year, the report said.
The Olass system was first rolled out across the country in 2006 and the Olass4 contracts agreed in August 2012 are currently set to end in July next year.
The Manchester College took over the £17m Olass4 contract for London in January from A4e, after a spokesperson for the welfare-to-work provider said that "delivering the service [in the capital] has become extremely challenging due to a number of constraints beyond our control".
A spokesperson for the college, which also runs prison education in the North East, North West, Kent and Sussex, and Yorkshire and Humber regions, said that "longer contracting" would "encourage sustainable investment to promote quality improvements and better outcomes for offenders".
The PLA's report, published on Monday, May 18, said: "The number of level three courses supported by Olass being achieved in prison has halved since 2010 (from 1,200 to 600).
"The [current] structure of the Olass contract funds numbers of learners completing and attaining courses.
"It is therefore more difficult to deliver higher-level special interest courses that take longer to deliver with potentially less completions."
It added that there should be better provision for prisoners with learning difficulties and more involvement from community and voluntary organisations to, for example, help boost literacy levels.
It also called for increased use of computer-based technology to complement traditional classroom-based teaching and more encouragement of prisoners who have passed a qualification to act as mentors to other inmates.
Prison governors, the report added, should be held more accountable "for the integration of education within the wider prison regime".
Dr Paul Phillips (pictured right), principal of Weston College which currently runs prison education in the South West of England, said: "In terms of extending the Olass contracts I think this should only occur where Skills Funding Agency (SFA)/ National Offender Management Services are completely happy with a provider."
He added: "Supporting learners to progress beyond level two is undertaken but not funded under Olass4. Information is provided about higher level study, but many offenders are reluctant to incur debt by taking out a learning loan."
MK College, which currently holds the contracts for the South Central, East and West Midlands regions, and A4e, which still holds the East of England contract, declined to comment.
Mr Javid and Mr Gove also declined to comment. However, a spokesperson for the Ministry of Justice said: "Education plays a crucial role in the rehabilitation of offenders and we are fully committed to improving prisoner learning across our prison service.
"We will continue to work closely with the Department for Business, Innovation & Skills (BIS) and the SFA to review and develop how we can best meet the learning needs of prisoners."
The Department for Business, Innovation and Skills and the Skills Funding Agency, which directs Olass4 funding, declined to comment.