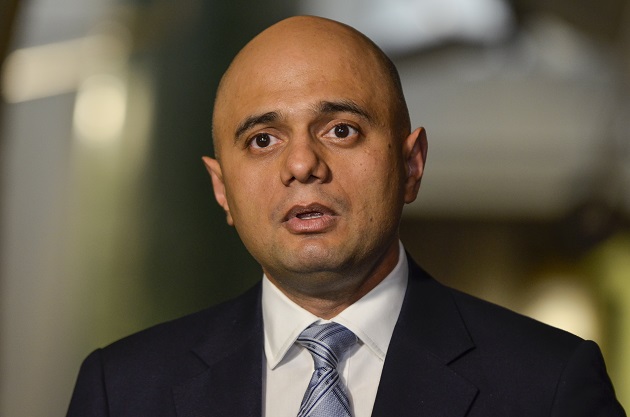 Prime Minister David Cameron has appointed the Conservative MP Sajid Javid (pictured) as Business Secretary in his new majority government.
He replaces Vince Cable, the Liberal Democrat who held the post for the last five years until he lost his seat in Parliament on May 7.
Reporter Freddie Whittaker delves into the background of the new man in charge of the Department for Business, Innovation and Skills (BIS), and looks at what the FE and skills sector might expect.
A former banker and Treasury minister, Sajid Javid is seen, by the business community at least, as a safe pair of hands. But will his FE background be enough to win over a sector demanding more attention and funding?
A key ally of George Osborne who, like Education Secretary Nicky Morgan, has risen swiftly through the ranks having worked for the Chancellor, Mr Javid will have to work hard to overturn the perception that he is a Treasury stooge placed in BIS to deliver deeper cuts.
So, along with delivering the 3m new apprenticeship starts and siting a university technical college within reach of every city, among other manifesto pledges, Mr Javid will have to preside over a cut to the adult skills budget of 24 per cent in 2015/16.
He will also find himself using cash from fines imposed on his former employer, Deutsche Bank, for their part in the Libor manipulation scandal to fund some of the planned apprenticeships growth thanks to a policy revealed in the General Election run-up designed to generate £200m.
And he will do all of this with his prized limited edition print of Margaret Thatcher hanging on the wall of his office at 1 Victoria Street, as he revealed on Twitter just days after the election.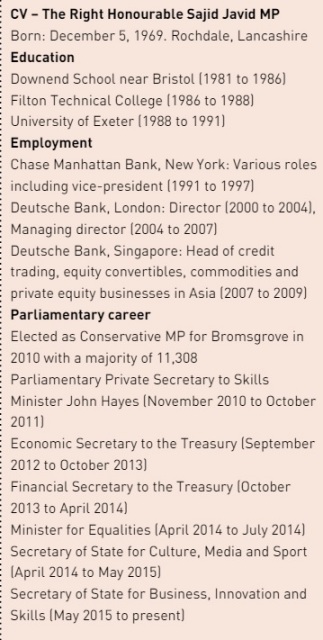 Given his background, Mr Javid is unlikely to face the same criticism at BIS as he did upon his appointment as Culture Secretary last year, when he was accused of being out of his depth.
Although he didn't have long to settle into his last job, Mr Javid made a staunch defence of a free press one of his key messages, which suggests that he may be an unlikely champion of whatever cause he decides is most important in his new brief. And Mr Javid is no stranger to FE.
As a former student at Filton Technical College [see below], now part of South Gloucestershire and Stroud College, who served as Parliamentary Private Secretary to the former Skills Minister John Hayes, he should be familiar with the demands of the sector. But if he isn't, sector leaders were certainly keen to help him out.
Dr Lynne Sedgmore, 157 Group executive director, told FE Week that Mr Javid's business experience and time spent working for former Skills Minister John Hayes, would "undoubtedly have left him with a clear view of the importance of a strong skills system".
She said: "Colleges are, of course, critical to that system. This is a good and high-profile appointment, and we look forward to working with him."
David Hughes, chief executive of the National Institute of Adult Continuing Education (Niace), said Mr Javid knew "first-hand" what people can achieve through "determination, ambition and perseverance", and said he looked forward to working with him.
Association of Teachers and Lecturers (ATL) general secretary Dr Mary Bousted told FE Week she hoped Mr Javid would continue the "supportive work" of his predecessor, adding that it was "particularly important that economic growth related to training and skills is developed in tandem with key partners for sustainable progress".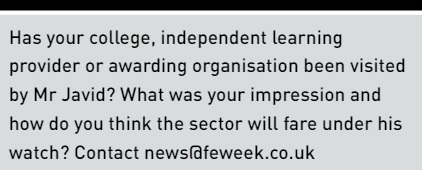 A spokesperson for the University and College Union said he hoped the new Business Secretary would visit colleges to see the "valuable work" they do, particularly in adult learning, adding: "This is a crucial area where more than 1m learners have already gone since 2010 as a result of funding cuts, and where the UK lags behind other countries.
"We look forward to working the new ministers to ensure that apprenticeship expansion is focussed on quality."
As reported on feweek.co.uk, Mr Javid's appointment has also been welcomed by Association of Colleges chief executive Martin Doel, who said he would be encouraging him to ensure those "many millions of adults not eligible for an apprenticeship are able to access training".
And Association of Employment and Learning Providers chief executive Stewart Segal said his organisation was "looking forward" to discussing with the new BIS team how training providers can play a "key role" in delivering planned growth of the apprenticeship programme.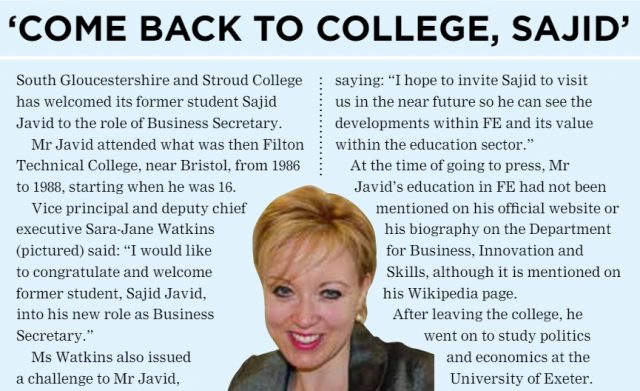 Meet the new boss, same as the old boss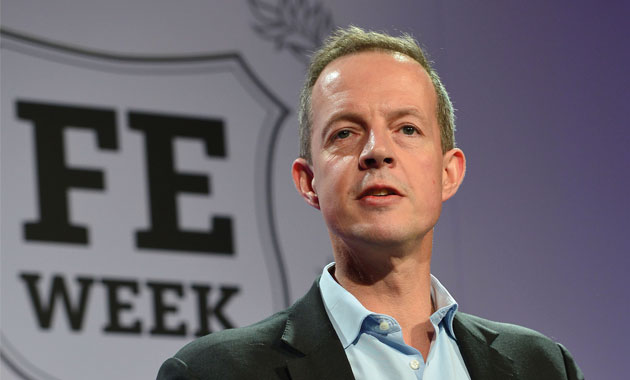 Nick Boles (pictured) "quickly grasped the importance of FE and training, particularly apprenticeships" in his first stint as Skills  Minister, according to Association of Colleges (AoC) chief executive Martin Doel.
Mr Doel said the AoC therefore "looked forward to continuing its work with Mr Boles," who was first appointed Skills Minister in July when Matthew Hancock was promoted to attend cabinet as business and energy minister.
"Nick Boles may only have joined the Department for Business, Innovation and Skills and Department for Education last summer but he has quickly grasped the importance of FE and training, particularly apprenticeships," said Mr Boles.
"We look forward to continuing our work with him in the coming months and encouraging him to look at the other forms of technical and professional education that colleges can provide to help young people and adults boost their skills."
Association of Employment and Learning Providers chief executive Stewart Segal praised Mr Boles for having worked with the sector on issues such as Functional Skills and for his "pragmatic approach" on apprenticeship reforms.
"We warmly welcome the reappointment of Nick Boles as skills minister," he said. "Firstly, he provides continuity in the role when the sector needs some stability as it faces major funding challenges over the next five years.
"Secondly he worked with the sector on issues such as Functional Skills and has taken a pragmatic approach on the apprenticeship reforms. We need to ensure all stakeholders are involved in these reforms if providers are to help the new government achieve its ambitious target for growth in the programme.
"We also hope that the minister works closely with the Department for Work and Pensions to bring about greater integration on employment and skills, especially when the government is committed to reducing youth unemployment.  We look forward to working with the minister in these very challenging times."
Sixth Form Colleges' Association deputy chief executive James Kewin said: "We welcome the reappointment of Nick Boles as Minister of State for Skills. As the minister in the Department for Education with responsibility for sixth form colleges, we look forward to continuing our constructive working relationship with him.
"The minister acknowledged last year that our sector had absorbed huge funding cuts and we will urge Mr Boles to fight our corner in this year's spending review.
"Although the 16 to 19 budget is outside the funding ringfence, cutting it further will seriously damage the life chance of thousands of students."
Dr Lynne Sedgmore, executive director of the 157 Group, said: "We are pleased to see Nick Boles continuing in his role as Minister for Skills – over the past ten months we have developed a very positive relationship with the Minister and it is good to see the continuity and stability which his appointment represents.
"The new government has set out a clear vision for the future expansion of apprenticeships and for a significant change to the way in which our skills system is viewed, and colleges are ready to work with the new ministerial team to achieve the best outcomes for both learners and employers."
Dr Mary Bousted, general secretary of the Association of Teachers and Lecturers (ATL), said: "Nick Boles' role as Minister for Skills is to be welcomed as a continuation of his interest in the sector and ATL would urge that a stronger partnership ethos is developed among key stakeholders to ensure the sector develops a positive and robust sector identity. Mr Boles could cement his presence in the sector by facilitating such a change."
Brian Lightman, general secretary of the Association of School and College Leaders (ASCL), said: "We look forward to working with the new ministerial teams at the Department for Education and the Department for Business, Innovation and Skills.
"The reappointment of ministers from the previous administration, including Education Secretary Nicky Morgan and Schools Minister Nick Gibb, as well Nick Boles as Skills Minister, will provide much-needed consistency and stability. It also means these departments will benefit from having at the helm a set of highly experienced ministers."
Graham Hasting-Evans, managing director of NOCN awarding organisation, told FE Week: "The sector faces its greatest challenge in a generation, with all the inherent major risks for the future. In that sense, we should welcome stability with the re-appointment of Nick Boles as Skills Minister.
"In his short time as Skills Minister, he's already demonstrated a pragmatic willingness to reconsider difficult and controversial issues and to make clear decisions.
"The current Trailblazer apprenticeship process, while producing some good apprenticeships in a few sectors, is still not fit-for-purpose.
"If the Government is going to achieve its ambition of 3m apprentices, as needed for a growing economy, then the Minister is going to have to face some major challenges, funding being the main one.
"We fully support the commitment to supporting young people into apprenticeships, but we think we now urgently need structural as well as process changes to make it happen. The Government must also focus on employability skills as well as English, maths, science and IT.
"Re-skilling and support for adults with low skill levels must also be a priority. There are many people who could fulfil employers' requirements, but are lacking in adult skills. The country cannot afford to ignore this."
Mr Boles was not available for comment since his reappointment on Monday (May 11), but told FE Week the day after the election: "FE colleges face many challenges and some are taking longer than others to get themselves in a position where they can compete with other providers."
He said colleges would no longer be able to rely solely on government funding, so they should improve links with "employers who pay for training directly".
"The expansion of apprenticeships was a key part of our manifesto and we intend to deliver on that," added Mr Boles.