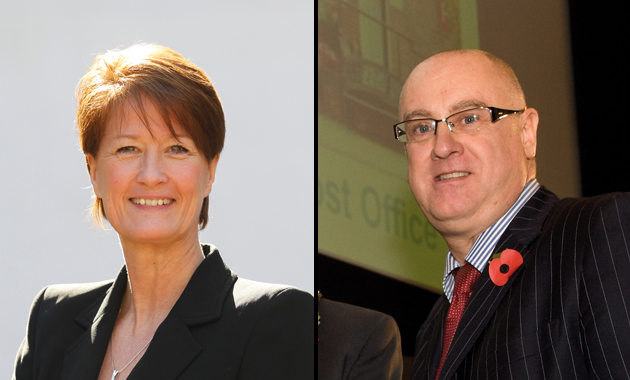 The University and College Union (UCU) has said it hopes FE Commissioner Dr David Collins' city-wide review of vocational education under way in Nottingham could end "wasteful and unnecessary" competition between local providers.
The review, revealed exclusively by feweek.co.uk this month, could lead to the merger of two of the city's biggest colleges, New College Nottingham (NCN) and Central College Nottingham.
The Nottingham branch of the UCU said the review was an "opportunity" — and one that "should not be wasted" — but said alternatives to a merger should be explored.
The review follows grade three Ofsted inspection results for both NCN and Central over the last year and the revelation, reported in FE Week on April 20, that New College Nottingham (NCN) plans for a multimillion pound campus revamp had to be saved by £12m funding from the local authority and Skills Funding Agency (SFA).
The first of four planned meetings, chaired by Dr Collins and involving governors from both colleges and both principals, is believed to have taken place on Monday, April 27.
A Nottingham UCU spokesperson called on the commissioner to ensure the review "enables meaningful participation in the review process by all stakeholders."
He said: "UCU has long argued that the FE structures in the city need rethinking."
He branded competition between providers in the city "unnecessary and wasteful".
However, he said UCU was "neutral on the issue of merger", but added combining NCN and Central was "only one option" and said "alternative propositions should be explored".
"Research shows mergers do not necessarily result in better run, more stable colleges or better quality provision," he said.
"This is particularly the case when mergers are undertaken for reasons of financial expediency."
He added jobs should be protected in any possible merger. He also called for the review to put in place "a collaborative strategic structure", which he said, "would be in a better position to pool resources and expertise".
"The review is an opportunity for a broad collaborative effort that restores the democratic dimension of FE," he said. "It is an opportunity that should not be wasted."
Dawn Whitemore (pictured above left), principal of NCN, and Malcolm Cowgill (picture above right), principal of Central, issued a joint statement to their staff on April 28 confirming that Dr Collins had launched the review.
It said that both colleges had agreed to "participate actively" in the review and "share information and data openly".
A spokesperson for NCN also told FE Week: "The review has been on the cards for some time and has been championed by Nottingham City Council."
She added: "Both colleges welcome this review and will continue to work in partnership with all key stakeholders throughout the process."
A Nottingham City Council spokesperson confirmed the council was involved with the city-wide review.