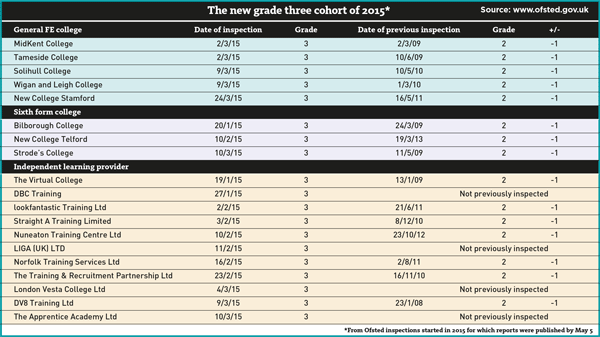 The proportion of colleges and independent learning providers (ILPs) ordered to improve by Ofsted is on the rise, FE Week research has found.
Sector bodies have raised concerns the trend in results so far this calender year versus the same period last year is evidence Ofsted has raised the benchmark for FE providers — or is failing to measure them appropriately.
Analysis by FE Week revealed of all 57 general FE colleges, sixth form colleges and ILPs inspected and reported on between January 1 and May 5, 33 per cent had their Ofsted rating changed to a grade three, or 'requires improvement'. For the same period last year that figure stood at 17 per cent of 64 inspections.
The newly-awarded grade threes all represent a drop from a grade two, apart from the grade given to A4e last year, when it had worked its way back up to a grade three. The proportion of new grade one results fell 3 percentage points, with no new grade ones so far this year compared to two in the same period last year. And new grade two ratings as a proportion of inspection results fell from 50 per cent last year to 32 per cent, while the proportion of grade fours went from 2 per cent to 9 per cent.
For general FE colleges, 31 per cent of the 16 inspected and reported on so far this year dropped to a grade three, up from 22 per cent.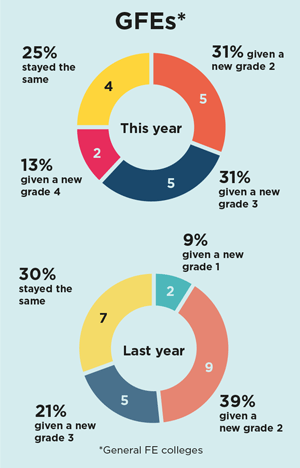 David Corke (pictured), director of education and skills policy for the Association of Colleges (AoC), said: "The current Ofsted framework doesn't fully capture the scope of what colleges do and this is reflected in an increase in the number of 'requires improvement' grades given. Ofsted appears to have recognised this, which is why they're introducing a new framework to inspect schools and colleges in the same way."
Mr Corke said the new framework "should better assess the complexity of colleges".
Of the 37 ILPs inspected and reported on this year, 30 per cent got a grade three — up from 17 per cent out of 29 the year before.
Association of Employment and Learning Providers chief executive Stewart Segal said: "Although the sample of recent inspections is quite small, it does seem that the Ofsted benchmark has been raised and a greater proportion of all providers are getting a grade three than last year. We have said for some time that the pressure on funding in terms of overall budgets and the fact that funding rates have not even kept pace with inflation means that it is really difficult for training providers to get grade one or two.
"Ofsted inspections have to reflect these external factors as well as being driven by success rates and elements such as safeguarding and 'prevent' requirements."
He also called for Ofsted to place more emphasis on satisfaction survey results in its judgements. He added: "With providers under pressure from inspections, it will be important to manage the transition to the new common inspection framework later this year."
Four sixth form colleges have been inspected and reported on since the beginning of the year and all but one (75 per cent) dropped to a grade three — while in 2014, this happened to just one out of the twelve (8 per cent) inspected. Sixth Form Colleges' Association deputy chief executive James Kewin said it was "difficult to draw conclusions" from the four colleges and that he was "confident" the grade three colleges would "bounce back". He added: "The picture for the whole academic year is likely to be less gloomy — we are aware of six colleges that have been inspected recently and their grades have not yet been published."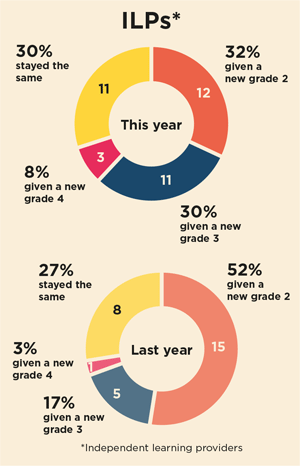 An Ofsted spokesperson said: "We would caution against reading too much into inspection outcomes for such a short period.
"Since we aim to raise standards in the sector we prioritise those further education colleges and skills providers that are not yet good or better. We will inspect colleges and providers judged to require improvement within two years. In the meantime, inspectors offer challenge and support to help them provide a better service for learners."
The figures show providers inspected between the same periods in both 2014 and 2015 where the report was also published within that period. They do not show providers inspected before January where the report was then released between January and May.
What does a grade three mean for providers?
Up until 2012, getting a grade three meant Ofsted saw you as satisfactory.
But since the last change to the Common Inspection Framework (CIF), a grade three means the provider "requires improvement".
And if a provider gets too many grade threes in a row, Ofsted, under the current CIF has the power to brand them a grade four — inadequate.
Sliding from a grade one or two to a three also means the provider will no longer be eligible to take on new traineeships as a prime contractor — and also barred from the direct recruitment of 14 and 15-year-olds.
But a new, unified CIF, providing one framework for inspecting nurseries, schools and FE, is due to introduced from September.
And, as the unified CIF requires all grade two, or good, providers to be re-inspected at more frequent, three-year intervals, the opportunities to slip into grade three status will come around more often.