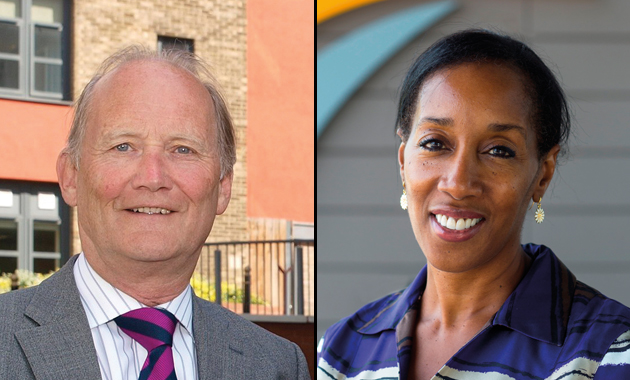 Former Lincoln College principal of 14 years John Allen (pictured above left) has taken over from under fire New College Stamford principal April Carrol (pictured above right).
Ms Carrol had been hit with two votes of no confidence from staff while trying to implement new contracts that included extending the college year from 33 to 36 weeks.
The college, which is awaiting publication of the result of its Ofsted inspection late last month, last week told FE Week she had since taken leave, but declined to deny speculation she had been suspended. However, college governors' chair Alison Grant said Ms Carrol, who was appointed to the post in July, was being replaced while on leave by Mr Allen, who stood down as principal of grade one-rated Lincoln College at the end of 2013/14.
Ms Grant said Ms Carrol was on "extended leave". She said: "Due to the anticipated length of the absence [of Ms Carrol], and the lack of a permanent senior leadership team (SLT), the corporation felt it would be prudent to appoint an external interim principal.
"To this end we looked for an individual with experience who would be able to step in and continue the work which April has started, to continue to work to appoint a permanent SLT, to draft a post Ofsted plan of action and to continue to assess progress. I am pleased to announce that John Allen has accepted the interim principal post."
A college spokesperson subsequently declined to comment on how long Mr Allen, who it is understood started in the post on Tuesday (April 21), would be in the post or whether Ms Carrol would be returning.
It comes after staff, including University and College Union (UCU), Unison and non-union members, passed two votes of no confidence in Ms Carrol. A UCU spokesperson said that around 80 members of staff passed the first no confidence vote through a show of hands during a meeting on March 23. He added that 123 employees then backed a second motion of no confidence in an online vote organised by the UCU a fortnight ago.
He claimed that the votes were called because Ms Carrol would not negotiate with the unions over her new contract plans. But he told FE Week: "We are pleased there is leadership in place at the college for the sake of students and staff."
The college spokesperson said that staff had been consulted over the proposed changes to their contracts that were needed to "ensure the college remains in a sustainable financial position".