How do you handle your new principal's demands? Is the managing director refusing to budge? Dr Sue Pember, the former head of FE and skills investment at the Department for Business, Innovation and Skills (BIS), who was awarded an OBE for services to the sector in 2000, puts her extensive sector knowledge to good use for FE Week.
On the third Monday of every month she answers your questions, backed by the experience of almost a decade as principal of Canterbury College, in addition to time served in further senior civil service posts at the Department for Education and Employment, Department for Education and Skills, and Department for Innovation, Universities and Skills.
Email DrSue@feweek.co.uk to ask her your question.

I don't know where to turn — I am a staff governor and I think the board is being given misleading information on performance.
At the last governing body meeting we received a report from the head of quality that showed good results in certain curriculum areas, but I know the staff in those areas are worried about their completion and success rates. So worried in fact that they feel classes will need to close. The vocational area is quite a high profile one and I just don't understand why governors are not being told.
What should I do?
Anon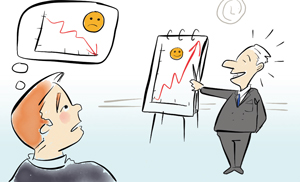 This is a serious issue. Boards must have access to timely, reliable and assured data. There are different ways you might tackle this, but it must be dealt with.
I take it you haven't the type of relationship with the principal where you can express you concerns in person. It's a shame if that is the case. Many principals have regular meetings with their staff governors for potential issues like this to be discussed.
There could be a simple answer here, such as a different time frame or cohort. It is likely that the principal was relying on the data presented and is not aware that things may have taken a turn for the worse.
If you don't feel confident enough to talk the principal or the senior manager who presented the data and, if there is a quality sub-committee happening soon, then ask for a paper on data validity to be put on the agenda. If this doesn't seem to cover it, you should talk to the clerk and explain you are concerned that the board may be receiving misleading information. The clerk should then talk to the chair, who should ask the principal to assess whether there is a problem and how widespread it might be. An external perspective on the data, either through audit or a data expert, might be appropriate.
If for some reason you feel you can't tackle this through speaking to the clerk then you should use your staff whistle blower procedures, which are there to protect you.

I have noticed that there have been a considerable number of clerks resign and/or retire over the last twelve months and that colleges have to resort to advertising more than once in order to recruit suitable successors.
You said in your review of governance that "each college should review the role of the clerk". Do you think they are and if they are not, might that be linked to the difficulty in recruiting that some colleges are experiencing?
Joanne Dean, managing director JD Management Solutions, and an Association of Colleges national subject specialist in governance
I can understand colleges having to go out twice. It is very important to get the right person. Clerks have a pivotal support role and development of their skills and expertise will be an important factor in securing strong governance. As highlighted in the FE Commissioners Annual Report, there is a big difference between "best practice" and the "working practice" in most colleges.
Clerks are most effective when they are fully integrated into college life whilst still retaining their professional integrity and ability when they are needed to give the board independent advice. In such colleges the Clerk is up to speed on both external and internal FE matters and able to make the right connection between issues and activity and, therefore, able to provide meaningful advice to the Board. The reverse of this is where the clerk is little more than a post box for meeting papers. In reality, most practice sits somewhere in between, which may not be appropriate for the present environment.
Hence, there is a growing need for every college to ensure its clerk has the right support and now is time to review their job description, position in college, time allocated and status. It may be the time is now right to introduce the concept of company secretary.

We are assuming that after the election there will be a new Minister — how do we get them to visit us?
Anon
The simple answer is to write to them on the day of their appointment. Do your homework now and personalise the invitation to a vocational area or student group they have an interest in and make the reason for them coming as compelling as possible. Be realistic, they probably will not be able to do it immediately so give a realistic date. Include what sort of media plan you have in mind.