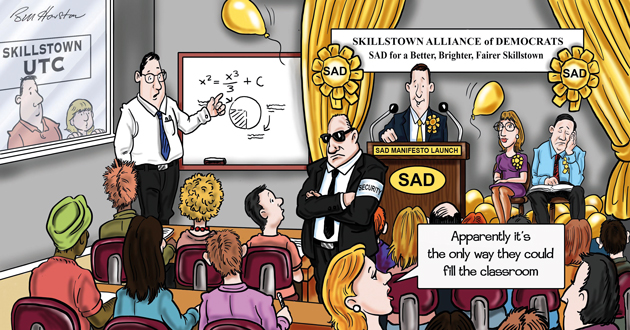 College sector leaders have called for a review of the drive for more University Technical Colleges (UTC) after one of the very first to open announced it was closing — on the same day the Prime Minister visited a UTC to promise one "within reach of every city".
Black Country UTC announced on Tuesday (April 14) it would be closing its doors on August 31 after a "disappointing" Ofsted inspection carried out last month and low student numbers. It has an overall capacity for 480 learners but has been running at around 33 per cent full for three years and, while the latest inspection report is not yet out, just over two years ago the education watchdog gave it a grade three rating.
The science and engineering UTC, which opened in 2011, becomes the second to close for failing to attract learners after Hackney announced in July it would be shutting.
Despite question marks over UTC learner numbers and Ofsted grades, Prime Minister David Cameron gave them his backing when he launched the Conservative election manifesto last week — at UTC Swindon. Labour has also backed calls for more UTCs.
However, 157 Group executive director Dr Lynne Sedgmore said the demise of Black Country UTC meant such "commitment" should be questioned. "In many parts of the country, high quality skills training and excellent employer links are available via FE colleges. It is also worth remembering that UTCs which have been successful have often been made so by FE colleges — at inception or by being bailed out when failing," she said.
She added UTCs' performance "should be kept under strong and continuous review as their true benefit is as yet unproven".
There are currently 30 UTCs, which offer specialist vocational training alongside key literacy and numeracy qualifications for 14 to 19-year-olds, operating — with 15 more due to open in 2016 and a further five the following year.
University and College Union general secretary Sally Hunt branded UTCS "an expensive gamble". "The next government should focus on properly funding existing schools and colleges to provide flexible academic and vocational learning options, and review any plans to expand UTCs," she said.
Gill Clipson, deputy chief executive of the Association of Colleges, said: "For UTCs, or indeed any new institutions to be successful in recruiting a significant number of students, there needs to be a consistent demand across all the necessary age groups. We hope that the next Government will factor this into their plans before opening any new institutions."
A spokesperson for the Baker Dearing Educational Trust, which oversees UTCs, said: "We would expect to play an active part in any review of the UTC programme if that was to be required by an incoming government."