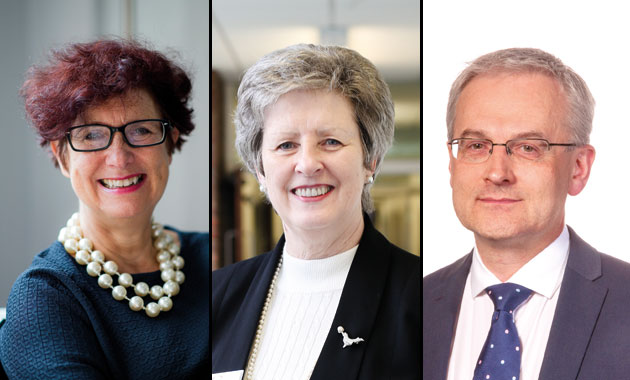 Three London colleges have announced plans to form a federation in a bid to combat budget cuts.
Newham College, Tower Hamlets and Redbridge College have formed the Federation of East London Colleges, due to have its first working group meeting this month.
College leaders said they hoped the move would allow them to share resources and facilities and to submit joint funding bids.
Di Gowland (pictured above left), principal of Newham College said the federation would "enable strategic collaboration to maximise opportunities… in the face of devastating cuts".
The colleges, which employ a total of 1,366 staff and cater for 29,320 students, have a combined income of £82m, they claimed.
Redbridge College chief executive Theresa Drowley (pictured above centre) told FE Week the 24 per cent cut to the Adult Skills Budget announced last month was "unsustainable" for her college. "We felt we needed to take our college destiny into our own hands," she said.
"As a group together we could be more efficient, get the best from each college and have a bigger voice within the national agenda."
The news comes just months after the federation formed by Middlesbrough College and Gateshead College was disbanded in its first year after failing to offer additional value to learners.
However, all three East London college leaders insisted each institution would maintain its own independence and governance. Tower Hamlets College principal Gerry McDonald (pictured above right) said: "We're not creating a Middlesbrough-type situation. Middlesbrough failed because it didn't properly articulate the relationship between the colleges and the overarching structure. This is a soft federation — we're not appointing an overarching chief executive, there will be equal status between the three colleges."
The federation company would not have any dedicated staff "at this stage", but would be a "vehicle" for bidding, said Mr McDonald.
"The Local Enterprise Partnerships don't want to work on a borough by borough basis, they want to see real collaborative partnerships across the whole patch," he said.
"It makes sense for us to put together bids for the European Social Fund as a strong partnership, rather than independently."
Ms Drowley said cutting jobs "wasn't the intention" behind the federation, but redundancies at management level were "likely".
It is understood that a merger of Redbridge and Tower Hamlets colleges has not been ruled out, depending on both colleges' individual strategic options reviews.