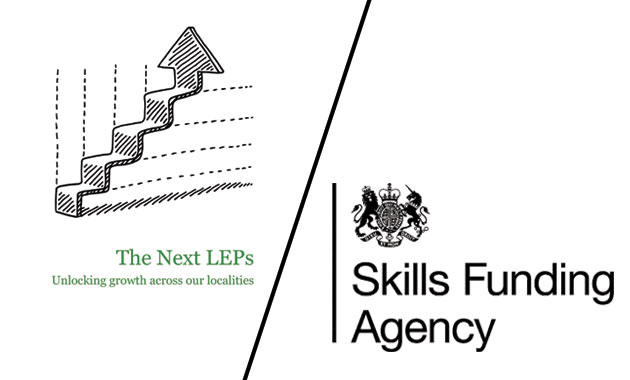 The abolition of the Skills Funding Agency (SFA) within just over a year has been proposed by a local government thinktank as it recommended devolving "various streams straight to local enterprise partnerships (Leps)."
The 66-page Next Leps: Unlocking growth across our localities report from Localis calls for the SFA to lose its £3.5bn from the Department for Business, Innovation and Skills (BIS) by 2016/17 among other far-reaching FE and skills recommendations.
It suggests that, from the same period, Education Funding Agency (EFA) spending on University Technical Colleges (UTCs) should go through Leps "to treble the number of UTCs by 2020 – including a minimum of one per Lep".
It goes on to recommend that "should Leps deliver cost effective spend in both these areas, devolution of all post-14 skills monies should be considered in 2020".
However, it also points out how there are 18 (almost half) Leps without FE representation on their board and that "this appears a problem in need of urgent attention" — but it gives no firm recommendation to address the issue.
Report author Richard Carr, a history lecturer at Anglia Ruskin University and a senior visiting fellow at Localis, describes the recommendations as a "Heseltine-plus approach to sub-regional growth".
The term is a nod to the Tory peer's October 2012 report entitled No Stone Unturned in pursuit of Growth, in which he said central government should "identify budgets", including the skills budget worth around £17bn over four years, and "bring them together into a single pot of funding" for Leps.
And Mr Carr's report acknowledged how, since Lord Heseltine's recommendations, "some SFA money has already been devolved – about £500m of the SFA's £4bn budget is in the form of European Social Fund money or capital grants which are already being packaged into the Local Growth Fund (LGF)".
It said: "But, even ignoring the central strait-jacket around the LGF, this still leaves over £3.5bn in SFA hands.
"The most elegant solution would be to abolish the SFA and devolve its various streams straight to LEPs to meet the aims contained within their Strategic Economic Plans.
"In practice the biggest accounting adjustment here would be £2.9bn of funds ceasing to be transferred from BIS to the SFA, and expanding the LGF by that sum."
A BIS spokesperson said it had "no plans to abolish the SFA" and Alex Pratt OBE, chair of the Bucks Lep and chair of Lep Network Management Board, told FE Week "it's not for Leps to comment on the viability of the SFA".
"There is however an open and legitimate debate about how we might properly devolve accountability, responsibility, capability and resources across a number of areas," he said.
He described UTCs as "potentially valuable, but just one tactical component in a complex system which needs to both maximise the life chances of individuals and deliver the skills needs of our businesses".
He said: "Devolving all post 14 skills funding to Leps might well prove to be the right way forward, as might devolving other centrally held budgets in other areas relevant to driving the growth we need to pay down our debts and keep our people employed.
"Personally, at this stage as one Lep chair I would not wish to have full responsibility for our colleges because not only are we not yet equipped to take this on, much of what colleges do is not about driving private sector growth, which is the dedicated focus of Leps.
"One real danger is that of mission creep where Leps could lose their focus on private sector growth."
He added: "If every legitimate interest were to have a seat on all Lep boards we'd need to build 39 amphitheatres and nothing would get done.
"Colleges and independent learning providers would in my mind do better to align together and focus hard on making sure Lep boards are fully informed in so far as the advice and evidence they receive (most if not all have a skills board that makes recommendations)."
The BIS spokesperson said: "We welcome contributions to the debate about how we secure the right balance between support for national and local priorities, and how we deliver long term support for the UK's key industries and economic growth.
"The reforms we have in train will ensure we have a high quality offer with much greater control in the hands of employers and learners.
"Through the successful City and Growth deals, we have increased the power and resources local leaders have to shape skills outcomes so they meet the needs of their local economies."