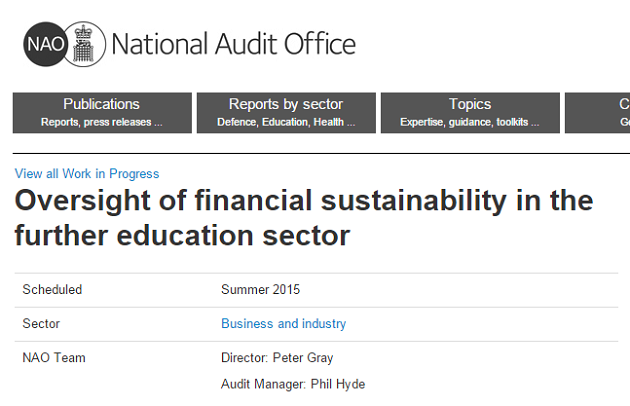 College leaders have called for a government National Audit Office (NAO) probe into college financial sustainability to consider the effect of a national cut of 24 per cent next year.
The government spending watchdog has announced an investigation into oversight of financial sustainability in the FE sector, focusing specifically on colleges.
The NAO, which will report on the subject in the summer, will examine the performance of the Department for Business, Innovation and Skills (BIS) and the Skills Funding Agency (SFA) and, specifically, whether sufficient monitoring of the financial health of the sector is in place to identify emerging risks.
It will also aim to identify if there is a clear framework for deciding whether and when to intervene if a college is in financial difficulty, and whether effective action is taken to manage financial health issues which arise.
The review has been welcomed by the Association of School and College Leaders (ASCL) and Association of Colleges (AoC), which both called for proposed cuts of up to 24 per cent from the non-apprenticeship part of the adult skills budget in 2015/16 to be taken into account.
Malcolm Trobe, deputy general secretary of the ASCL, said: "It is important that the NAO will be looking at key areas around the financial health of the FE sector, intervention and support for colleges with financial health issues.
"However, more important is the fact that the cuts announced last week mean that there needs to be a fundamental review of how adults can access learning and skills support. ASCL is supporting those within the FE sector who are calling for an independent, public review of how our country should develop a new system for supporting the skills needs we have as a nation.
"Given its importance, we hope that this proposal will have cross-party support to consider how to stimulate investment from individuals and employers as well as how to spend the diminished government funding."
Julian Gravatt, assistant chief executive of the AoC, said: "We've discussed the study with the auditors and we're looking forward to seeing the results. Colleges face a number of financial challenges at the moment and it would be useful to have an independent view on the manageability of the task ahead of them given the funding cuts in the pipeline."
The University and College Union (UCU) has also called for a closer look at cuts. A spokesperson said: "The National Audit Office plays an important role in ensuring that funding bodies are operating effectively, and so this investigation is to be welcomed.
"However, in the wake of news that adult FE budgets are to be slashed by up to 24 per cent in 2015/16, it is clear that funding cuts pose the biggest risk of all to the sector.
"The NAO should focus its investigation on whether government's prescriptive focus on apprenticeships is undermining colleges' ability to respond to local need and sustainably fund other courses which cater for a wide range of learners."
Other recent NAO reports on the FE sector include one released in December, which reported that a saving of just £4m from £250m to £300m of "red tape" identified in BIS's simplification plan had been achieved, and another in September which lamented the low take-up of traineeships.
The NAO is expected to report back on its findings this summer. Its report will be followed up by a hearing of the House of Commons public accounts committee, which will also report on its own findings.