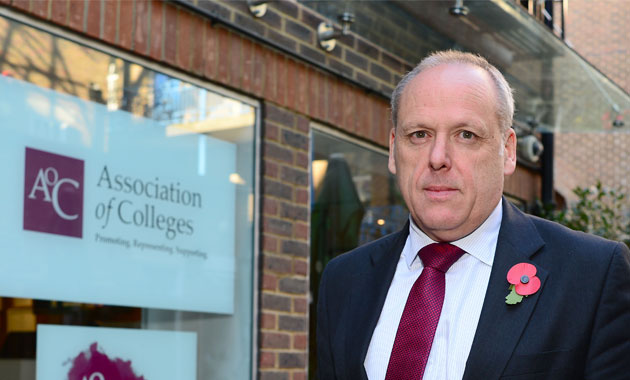 Association of Colleges chief executive Martin Doel (pictured) has told of his fears that more job losses could be about to sweep away FE and skills staff after it was announced provider budgets would be slashed by up to 24 per cent.
He said that with the average college having made 105 redundancies since 2009/10, he feared for the workforce as providers sought to balance their budgets in light of the latest government cut to FE and skills funding.
The Adult Skills Budget (ASB) is to fall 11 per cent next financial year, it was revealed on Thursday (February 26), and Skills Funding Agency (SFA) chief executive Peter Lauener has predicted this will translate to a 17 per cent cut next academic year.
But with £770m of apprenticeship money protected, and traineeship and English and maths funding prioritised, those who offer little or none of this provision could see their allocation, due out in just over a fortnight, fall by up to a quarter — even bigger than last year's 15 per cent cut.
Mr Doel said the cuts were a "further blow to colleges and their current and future students".
He said: "An additional major concern is how colleges, after suffering such considerable cuts, can continue to attract and retain the best staff. It is worth noting that the average college has made 105 redundancies since 2009/10 and we fear this figure will grow."
The comments were echoed by Malcolm Trobe, deputy general secretary of the Association of School and College Leaders, who said: "The effect on colleges is potentially devastating. This sector has already suffered massive real terms cuts in funding and this announcement will put it under even greater financial pressure. It threatens the very financial stability of some colleges."
Stewart Segal, chief executive of the Association of Employment and Learning Providers, said that with the apprenticeship protected "we need to see growth during the year if we are to meet employer demand".
Some providers, he said, are at an early stage of developing their traineeship programmes and therefore their "carry-over will mean that they will require a higher budget for next year". He further warned there would be "huge pressure on the rest of the budgets" with English and maths also prioritised, "inevitably resulting in some groups of learners not being able to access funding and this could include high priority groups such as the unemployed".
Shadow Skills Minister Liam Byrne meanwhile accused the Conservatives of "hollowing out" the ASB, while University and College Union (UCU) general secretary Sally Hunt described the cuts as an "act of wilful vandalism that will decimate FE as we know it today."
David Hughes, chief executive of the National Institute of Adult Continuing Education (Niace), said: "It is staggering that there is not more outcry about this drastic and sustained reduction in funding particularly given the clear consensus about the genuine threat that crippling skills gaps and shortages pose for UK economic growth."
And Dr Mary Bousted, general secretary of the Association of Teachers and Lecturers (ATL), said the cut "looked like nothing less than a deliberate attempt to destroy the sector". "It has already been battered by excessive cuts," she said.
Joe Vinson, National Union of Students' vice president for FE, said: "It's appalling the government wants to reduce investment in skills when we need to stimulate the economy and give people the opportunity to gain work."
Dr Lynne Sedgmore CBE, executive director of the 157 Group, said the predicted cuts meant she was looking at "new forms of social investment to sustain the future of high quality and accessible skills training for all".
"We are working with the government to ascertain where legislative change may be needed in order to achieve this vision and to support the simplification of processes that may currently prevent innovation," she said.
A spokesperson for the Department for Business, Innovation and Skills conceded the cuts would be "challenging for the sector".
But, she said: "The sector was made aware at the time of the last spending review that government funding was reducing and of the need to look to generate other income streams, creating sustainable business models for the future. Private investment in skills training is high so government funding — although important — is not the only
funding available."
—————————————————————————————————————————————-
Editor's comment
There was no real surprise in the 5 per cent overall budget cut and little shock at the 11 per cent fall in the next financial year's adult skills budget.
The SFA said this would look like translating into a 17 per cent cut to academic year allocations — but apprenticeships, traineeships and English and maths are the government order of the day so if you provide little or none of these expect your funding to fall by up to a quarter.
And while some question why these are prioritised, others question why higher education appears relatively unscathed and others still ask why older learners under BIS's care aren't afforded the same funding protection as that enjoyed by (some) DfE learners.
It's not as if current funding levels are having no effect — just ask retiring157 Group executive director Dr Lynne Sedgmore to tell you about the rumour of 50 colleges in financial turmoil.
Jobs and provision might offer uncomfortable savings, but just how much more can be cut?
FE and skills has long been trying to shake off the Cinderella sector cliché, but what the government is instead discarding without the sector's consent is its proud position as the 'second chance' saloon for adults to get on in life.
Chris Henwood
chris.henwood@feweek.co.uk