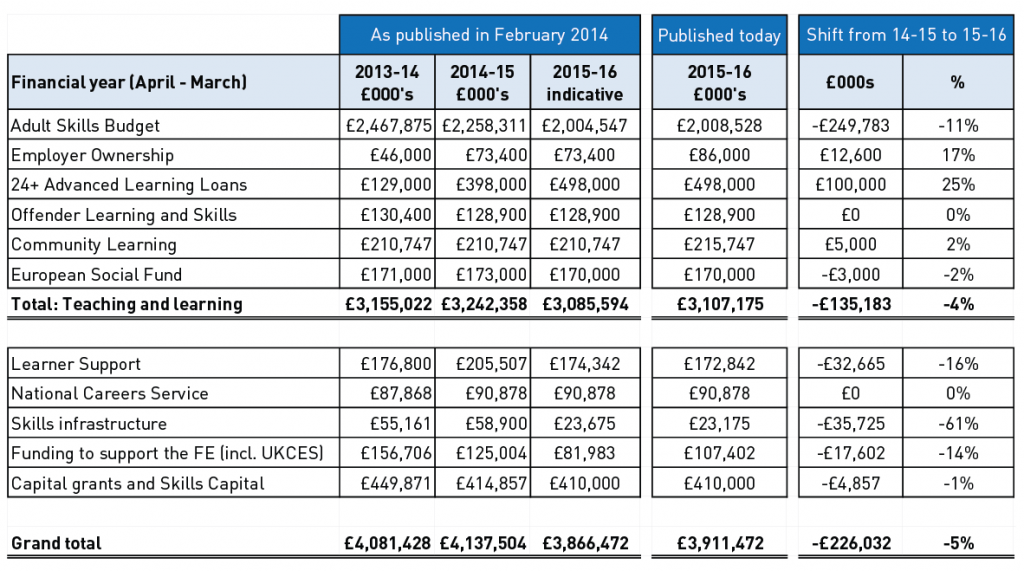 Colleges and independent learning providers are set for a national funding cut of up to 24 per cent next academic year, FE Week can exclusively reveal.
The Department for Business, Innovation and Skills (BIS) this morning released details of its 2015-16 (financial year) adult FE and skills funding budget, which will fall 5 per cent overall to £3.91bn — in line with indicative plans published in February last year.
However, alongside the letter from BIS, FE Week has seen a letter from Skills Funding Agency (SFA) chief executive Peter Lauener (pictured right) to providers, who are expecting their allocations in just over a fortnight, outlining how this will apply to the 2015/16 academic year.
He warned that the adult skills budget line in the SFA grant was being cut by 11 per cent, translating to a 17 per cent cut to the 2015/16 academic year. This, he said, would mean after protecting apprenticeship funding there would be cuts to provider allocations of up to a quarter — even bigger than last year's 15 per cent cut.
He said: "At headline level, our initial modelling suggests that the total skills budget that we have available for allocation for the 2015 to 2016 funding year will be around 17 per cent less than in 2014 to 2015.
"Within this, the allocation budget for apprenticeships will initially be set at £770m and we will continue to work to ensure that every high quality apprenticeship opportunity can be funded.
"As a result of this continuing commitment to apprenticeships, the primary impact of the reduction is on the funds available for allocation as non-apprenticeship (other) adult skills which we estimate could reduce by around 24 per cent.
"The overall impact of our funding allocations will vary significantly between individual colleges and training organisations, depending on the mix of training provision delivered.
"Reductions will be higher where colleges and training organisations deliver low numbers of apprenticeships, traineeships, English and maths."
The cut was attacked by the Association of Colleges (AoC) and the Association of Employment and Learning Providers (AELP).
Martin Doel, AoC chief executive, said: "The Government cannot continue to reduce this provision and at the same time expect adults to have sufficient opportunity to retrain for new or future job opportunities.
"By 2020, if the next Government continue to cut at this rate, adult FE will be effectively a thing of the past."
He added: "This situation is now urgent. This could be the end of this essential education in every city, town and community in England and the consequences will be felt by individuals and the economy for years to come."
Stewart Segal, AELP chief executive, said: "This is another major cut in budgets for the employment and skills sector while the funding for higher education continues to increase. This is the wrong focus while we are trying to give vocational learning the status it deserves."