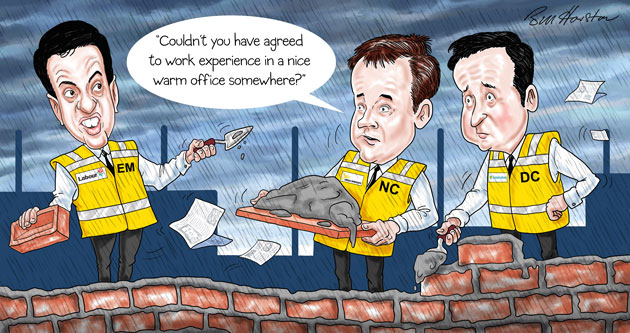 Skills Show organisers Find a Future have challenged political parties to promise young people access to "experiential careers advice".
Its boss, Ross Maloney, called for the parties to pledge more detailed careers guidance, including opportunities such as the 'have-a-gos' available at the Skills Show, in their manifestos.
"Many young people are currently unclear about the opportunities open to them, from apprenticeships, traineeships, FE and training," he said. "We are calling on political parties to pledge to ensure all these avenues are properly promoted and utilised if elected."
A Find a Future spokesperson told FE Week: "Political parties should prioritise the provision of experiential careers advice for all young people."
In a speech earlier this month, Labour leader Ed Miliband said that his party would introduce "proper work experience compulsory for all as part of the school curriculum".
A Conservative Party spokesperson said the careers and enterprise company proposed by Nicky Morgan in December would "help young people access the best advice and inspiration by encouraging greater collaboration between schools and colleges and employers".
But, speaking to Rolls-Royce workers at a factory in West Sussex last week, Prime Minister David Cameron said: "There are good things happening, but I think there are a couple of areas we still need to get right. One is the careers advice we give to people in schools. So often when I meet apprentices and I ask 'how did you hear about the apprenticeships' they say 'well, I found it online' or 'I knew a family friend' or 'I knew the business because it was nearby'. I don't get the answer enough: 'I was told at school about the apprenticeship pathways as well as the university pathway.'"
He also promised to publish job prospects data and likely salary for each university and academic course, and apprenticeship.
A Lib Dem spokesperson said: "We have included in our pre-manifesto, plans to improve the provision of independent careers information, advice and guidance for all, including through job centres for people seeking new options later in life."
It comes with Labour unable to guarantee that 16 to 19 funding, which it said it would ringfence within an "overall" education budget, could not be shifted to school spending. Speaking to FE Week following the ringfence announcement, Shadow Education Secretary Tristram Hunt said: "We will put forward those spending proposals when we're in government."
Lib Dem leader Nick Clegg, who has pledged the same ringfence protection as Labour, also declined to say whether 16 to 19 education would get its own internal ringfence.
Speaking at this month's Skills Summit in London, Skills Minister Nick Boles said he would not "offer or guarantee" that his party would offer the same protection.