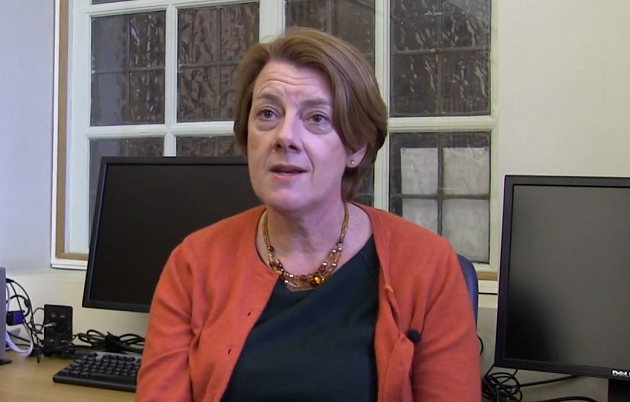 Further education colleges are failing to meet employer needs when it comes to digital skills, an influential group of Peers has warned.
In its latest report, Make or Break: The UK's digital future (pictured below right), the House of Lords digital skills committee claimed that although the FE sector was "best placed" to respond to England's digital skills gap, colleges needed to "move up a gear".
In its report out today, the committee said FE colleges were already "well-placed to link local people with training and jobs", but that evidence showed that there were "pockets of excellence in the FE system, but provision is patchy, unresponsive and not meeting employer needs".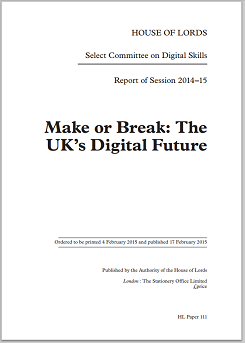 Committee chair Lady Morgan (pictured), a Labour peer and former chair of Ofsted, described the report as a "wake-up call for whoever forms the next government".
The report said: "There is an urgent requirement for comprehensive industry input into the FE system. The government should encourage strong partnerships between industry and colleges. Training delivery must be revamped.
"FE colleges need to move up a gear and provide industry-designed and endorsed short courses that are going to lead to a job."
The report is based on months of evidence-gathering, and includes testimony from business leaders including Siemens skills partner Martin Hottass and City & Guilds chief executive Chris Jones, along with Skills Funding Agency apprenticeships boss Sue Husband, Skills Minister Nick Boles and FE sector leaders, academics and others.
It said skills cash, controlled by the Skills Funding Agency, was "not presently targeted sufficiently to improve the capacity of the UK's workforce and grow its economy".
It called for a greater focus on "short, more flexible courses", and for money to be diverted to making them happen, but it did not go into further detail about how much funding should be re-allocated.
It added: "Provision is cumbersome and slow to adapt. There is a clear opportunity for the government here, to join-up industry, FE and funding.
"The government's proposals to improve FE will not have the desired effects without an overhaul of the funding system."
The report said apprenticeships could help "plug the short and medium-term skills gap", adding: "We believe 16 to 19-year-olds must be targeted by employers, teachers, and careers guidance professionals to enable them to choose and take up good apprenticeships. There is also a need to tackle negative perceptions of vocational education among schools, teachers, head teachers and parents.
"Including a digital element in all apprenticeship schemes, as well as offering more digital apprenticeships for specific technology occupations and sectors (taking into account the predicted changes to the labour market), could improve general digital skills."
It said: "There is widespread support for the expansion of apprenticeship programmes, but the UK's interests and ambitions need increased scale. There are not enough apprenticeships in digital subjects or apprenticeship schemes with digital featuring as an important element of content. Apprenticeships need to be seen as a viable alternative to higher education and the more traditional education routes."
Lady Morgan said: "This report is a wake-up call to whoever forms the next government in May. Digital is everywhere, with digital skills now seen as vital life skills. It's obvious, however, that we're not learning the right skills to meet our future needs.
"Our overwhelming recommendation is that the incoming government creates a digital agenda, with the goal of securing the UK's place as a leading digital economy within the next five years.
"Digital skills can no longer be dealt with by individual departments – this must all join up. We urge the new government to create a cabinet minister post to steer this digital agenda through."