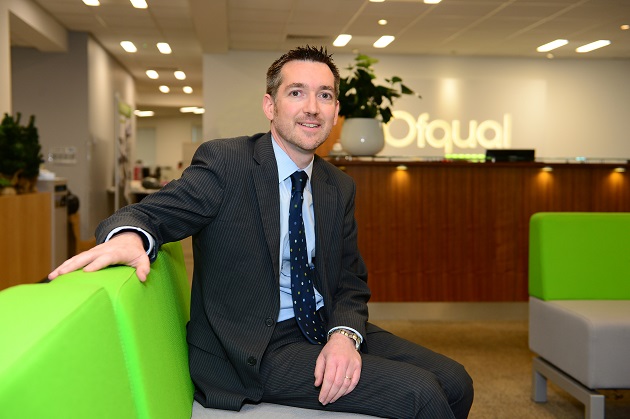 Ofqual has issued a four-point improvement plan for awarding organisations (AOs) in a bid to make Functional Skills qualifications "more valid and more reliable".
The qualifications watchdog today published the report on its review, launched last year, of level two English and maths Functional Skills, which concluded that they "need to be improved".
The report said AOs had already responded "positively" to findings that action needed to be taken to improve the quality of assessment materials and reduce the risk of malpractice and maladministration. The report also said AOs needed to strengthen standard-setting procedures and evaluate better how far qualifications were meeting user needs.
"The majority of improvements will be in place by this summer," it added. "We are also taking action to make sure standards are more consistent between different awarding organisations."
Jeremy Benson (pictured), Ofqual executive director for vocational qualifications, said: "We take the quality of Functional Skills qualifications very seriously and have high expectations of the AOs that offer them.
"The changes awarding organisations are making should result in real and visible improvements to Functional Skills assessments — making them more relevant and more reliable.
"We will follow up on these changes and if we find that qualifications don't meet our requirements, we will take further action."
The Ofqual review included investigation of the Functional Skills offer in each of the 13 AOs that run the 28 level two English and maths qualifications.
The report, entitled Improving Functional Skills Qualifications, outlines how City & Guilds and Pearson "dominate" on Functional Skills, controlling almost 80 per cent of the market, and highlights how the total number of certificates issued has gone up from nearly 300,000 in 2010/11 to more than 1m in 2013/14.
Kirstie Donnelly MBE, UK managing director at City & Guilds, told FE Week: "We welcome Ofqual's feedback which enables us to review and improve our qualifications to ensure our learners get the best possible outcomes.
"However, as we have noted in our recent Sense and Instability report we caution against change for change's sake as learners and employers need stability to have confidence in measures of attainment.
"We have established a demand for the credible and valuable role of Functional Skills, reflected in the delivery figures the report highlights.
"We look forward to the ongoing and important contribution Functional Skills will make to improving the maths and English skills of learners and the overall functional literacy of the UK workforce."
A spokesperson for Pearson said: "We have been working with Ofqual following their thematic review of Functional Skills, and welcome the opportunity to ensure that these qualifications continue to provide a valuable demonstration of a learner's skills in literacy, numeracy and ICT.
"We will continue to work with Ofqual to make these changes to our qualifications and will be keeping our customers fully up-to-date as we progress."
A spokesperson for the Education and Training Foundation, which today launched its review of teaching and accreditation — including Functional Skills — of non-GCSE maths and English for learners unable to reach D grade GCSE, said: "It is very helpful to have this Ofqual review of Functional Skills qualifications.
"It provides additional data for our Making maths and English work for all review [click here to take part]. We are working closely with Ofqual as partners in our review."
The review marks a turnaround for Functional Skills, which were increasingly being seen as mere "stepping stones" toward GCSEs by some, including former Skills Minister Matthew Hancock. They were even due to be removed as a requirement for apprentices in favour of GCSEs from 2017.
But Skills Minister Nick Boles, describing Functional Skills as "important" as he appeared at an FE Week fringe event at Conservative Party Conference late last year, pledged to work with Ofqual on improving elements of the qualification, including the branding. He said he wanted to make the them "legitimate, valid, respected and admired".
David Hughes, chief executive of the National Institute of Adult Continuing Education (Niace), said: "We welcome the work Ofqual is doing to improve the quality of these important qualifications. It is vital that they are understood and valued by learners and employers, the quality of the qualification itself and the way it is taught are both important parts of that."
A further Ofqual review of Functional Skills was due in the autumn, it said in the report, following up on changes made by AOs and to check they were meeting regulatory requirements.
"We will not limit this to level two English and maths, but will look across all subjects and levels. Where there is evidence that our requirements are not being met, we will consider formal regulatory action," it said.