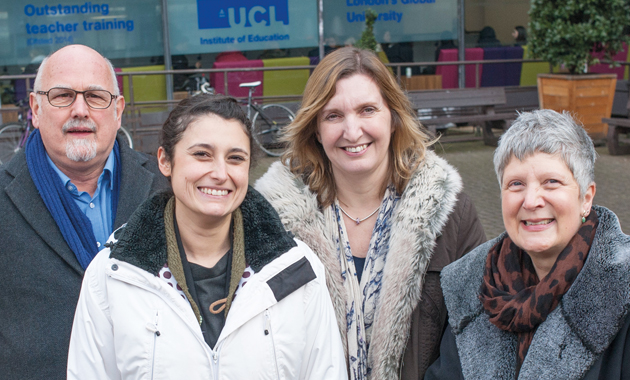 The Further Education Trust for Leadership (Fetl) has announced the four winners in its first wave of fellowship grants to fund research.
Alex Day MBE, Ruth Allen, Tim Ward and Ann Creed will get up to £40,000 each to fund their work.
They will be looking at attitudes to risk in leadership of sixth form colleges, leadership challenges among third sector providers, the impact of leadership on part-time teachers and fostering creative leadership in FE.
Mark Ravenhall, Fetl chief executive, said: "We're really excited about the chosen research projects. The idea is to pay for the fellows to take time away from their ordinary jobs, so that they have the time to think seriously about future leadership issues in our sector."
The winning bidders' identities were unveiled on Tuesday (January 20) at the Institute of Education (IoE), in London, along with their individual research topics.
Fetl, which launched in May with a budget of up to £5.5m left over from the closure of the Learning and Skills Improvement Service, had received 21 applications for fellowships before settling on the four just before Christmas.
They will work part-time on their projects for between three and six months from February.
"The other applications, which were not chosen this time, showed particular concern about how best to deliver the digital curriculum in the wake of the-FE Learning Technology Action Group, employer engagement, governance, developing middle managers, and performance management," said Mr Ravenhall.
"Half of the applicants were from general FE colleges and others included specialist designated institutions, sixth form colleges, local authority adult learning and independent learning providers."
Ms Day MBE, director of adult and higher education at Hampshire-based Peter Symonds College, will research attitudes to risk and Ms Allen, group development manager of the Cornwall College Group, will look into creative leadership.
Mr Ward, chief executive of The Learning Curve, a not-for-profit organisation focused on workforce and organisational development in the voluntary and community sector, and chair of the Third Sector Learning Alliance, which supports voluntary, community and social enterprise learning providers, will look at third sector leadership challenges.
Ms Creed, who is currently working as a freelance researcher after completing 18 months as strategic policy officer for the Workers Educational Association in December, will research leadership impact on part-time teachers.
They will work with a university chair in FE leadership at the IoE.
They will also have access to the IoE library, but regular attendance in London will not be necessary and research can be done from home.
Meanwhile, organisations with an interest in FE were also invited in November last year to apply for Fetl grants worth between £10,000 and £100,000, to fund research into sector leadership issues, with entries closing a month later.
Mr Ravenhall said: "More than 50 applications for this funding round were received. Half of organisations applying were learning providers. Other applications were received from membership bodies, think tanks and universities with a strong track record in FE research."
The names of up to seven chosen organisations are due to be announced next month.
Fetl's founding president, and former Lewisham College principal, Dame Ruth Silver said: "In this, our first year, we are grateful for the big vote of support [for the fellowships and grants] and the depth of interest in research in the FE and skills sector. We also recognise this has been a first for the sector in approaching a new body with a new focus."
The next round of applications for fellowships and grants are set to open in April or May.
Main pic: from left; Tim Ward, Ruth Allen, Alex Day and Ann Creed
Tightening purse strings lead to risk-taking interest
With issues of leadership a key theme in FE and skills, FE Week reporter Paul Offord takes a look at the Fetl grant winners and their research. Alex Day features in the first in a series of articles in this and the next three editions.
Running adult and higher education at Peter Symonds College during a period of heavy government funding cuts has sharpened Alex Day's interest in risk taking.
Mrs Day, who joined the Winchester sixth form college in 1998 and has been its director of adult and higher education for around six years, said her experience of funding issues was the inspiration behind her winning Further Education Trust for Leadership (Fetl) research proposal.
She will be exploring attitudes to risk among sixth form college leaders, particularly in relation to the diversification of income streams.
She will aim to identify barriers to risk-taking and possible interventions that might support planning and reasonable risk calculation when considering diversification.
Mrs Day, who was given an MBE last year for services to education, said: "It is a really interesting subject area and something that is becoming increasingly important for our sector.
"With the funding cuts we're seeing, providers are having to look at diversifying where they generate income from, for example through providing increased higher education provision, which all involves risk.
"Any business should have a balanced risk portfolio. If you don't take risks then you can be left behind and leave yourself vulnerable to change.
"You should have some work that is low risk and low return, some that's high risk and high return and some in between. Prior to 2000, most definitions of risk were negative and concentrated on 'the dangers' of a particular action.
"More recently there has been a change where risk is defined as a combination of perceived 'opportunities' and 'threats'. I think they've grasped that in business but I'm not sure we have in FE."
Fetl chief executive Mark Ravenhall said: "Attitudes to risk and educational diversification are really important issues for the whole sector.
"Although Alex's proposal focuses on
sixth form colleges, it will explore
principles and solutions that will be
useful for all providers."