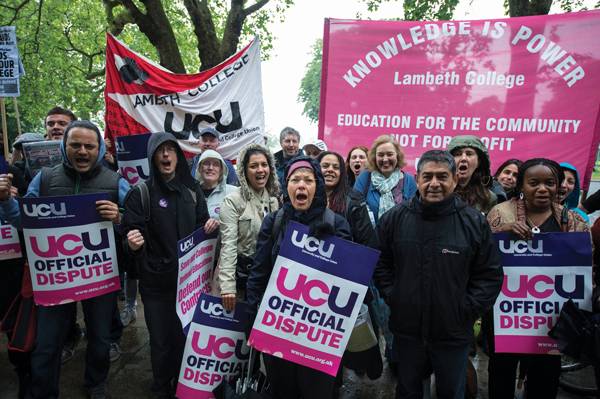 Lambeth College's long-running dispute over new staff contracts came to an end this evening after striking union members voted to return to work.
Members of the University and College Union (UCU) unanimously agreed to call off an indefinite strike, which began on Monday, in a meeting at the college's Clapham site.
Lecturers at the London college have taken part in a series of strikes since March last year, including an indefinite walkout in June which lasted for five weeks ending just before the summer holidays.
The row over contracts for new staff members, which UCU said would leave them with fewer holidays, less sick pay and longer working hours, also saw a series of escalating strike over the last two months, which culminated in the second indefinite walkout on Monday.
However, when the college offered to allow existing staff to change their hours without transferring to the new contract and made changes to the first year of sick pay, union members voted to accept and will return to work tomorrow.
UCU regional official Una O'Brien said: "UCU members at Lambeth have demonstrated their resolve throughout this long and at times bitter dispute. We are pleased that an acceptable resolution has been found and accepted by our members.
"We hope we can now restore good working relations with the college and get back to business as usual."
Lecturers are expected to return to work tomorrow.
Lambeth principal Mark Silverman said: "The college has always been open to, and hopeful of achieving, a reasonable resolution to this dispute, and I welcome the end of strike action and return to work.
"This agreement brings an end to what has been a considerable distraction for our managers and staff, and I am pleased that we can now focus our time and effort on the important work of teaching and supporting our learners.
"We are very clear on the steps we need to take to improve the quality of our teaching and to assure our financial position as we build a high-quality sustainable college for south London.
"The terms and conditions in the 'new' contract, and the agreement we have reached today, support both of those objectives and I am pleased that we can now put the dispute behind us.
"My sincere thanks go to the staff who worked diligently throughout strike action to ensure that lessons and support for learners could continue."