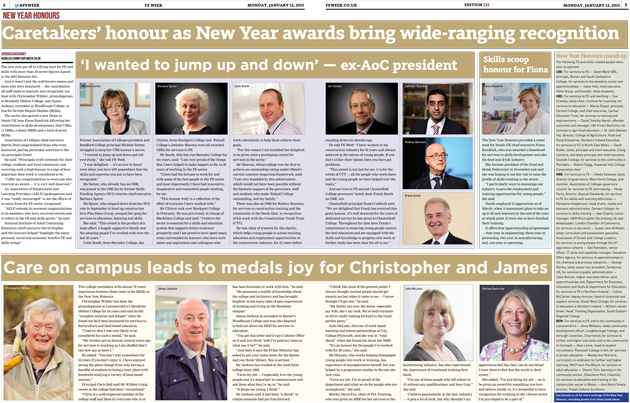 The new year got off to a flying start for FE and skills with more than 30 sector figures named in the 2015 Honours list.
And it wasn't just the well-known names and faces who were honoured — the contribution all staff make to learners was recognised, not least with Christopher Willder, groundsperson at Brooksby Melton College, and James Jackson, caretaker at Woodhouse College, in line for British Empire Medals (BEMs).
The sector also gained a new Dame in Nestle UK boss Fiona Kendrick following her contribution to skills development, four CBEs, 11 OBEs, a dozen MBEs and a total of seven BEMs.
Click here to view the Honours article (pictured above) from edition 123 of FE Week
Association of Colleges chief executive Martin Doel congratulated those who were honoured, paying particular attention to the six principals listed.
He said: "Principals work tirelessly for their college, students and local community and receiving such a high honour is a sign of how important their work is considered to be.
"I offer my congratulations to everyone who received an award — it is very well deserved."
An Association of Employment and Learning Providers (AELP) spokesperson said it was "really encouraged" to see the efforts of so many from the FE sector recognised.
"AELP extends its warmest congratulations to its members who have received awards and to others in the FE and skills sector," he said.
National Institute of Adult Continuing Education chief executive David Hughes said the honours helped "highlight the many personal, social and economic benefits FE and skills brings".
Click here for further FE Week honours coverage, including quotes from those not featured in edition 123, such as apprenticeship ambassador and CBE recipient Jason Holt.