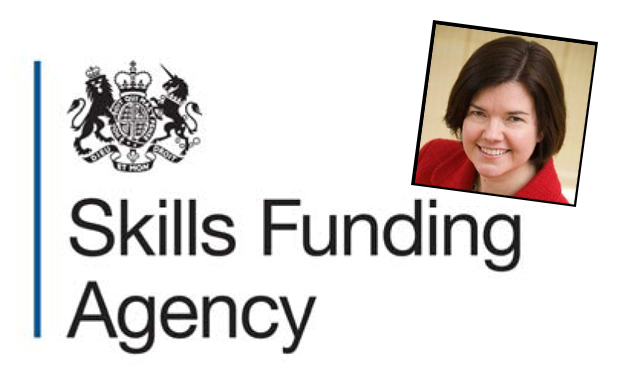 More than 700 colleges and independent learning providers have been warned by the Skills Funding Agency (SFA) that they face a shock clawback on 2013/14 funding after it "identified some provision that has been incorrectly claimed," FE Week can reveal.
Una Bennett (pictured above), deputy director for funding systems for the SFA, wrote to providers with the warning before Christmas — and after the SFA's own auditors signed off provider accounts last autumn.
Her correspondence, leaked to FE Week, read: "We will contact you in the next few weeks to share the specific details of your learners that are affected… We will then calculate the final value of overpayment and discuss with you the repayment."
The problem claims included, she said, apprenticeships that did not meet the minimum duration criteria and learners aged 24 and over studying at level two and below where full funding had been claimed but data had not been submitted identifying the learner as eligible — meaning they therefore should have been co-funded. However, the SFA declined to comment on how much it planned to claim back or how many of the providers it audited received the letter.
The problem has seen the SFA come under fire in its online Feconnect forum, where among those to post was Stephen Hewitt, strategic funding, enrolments and examinations manager at Morley College.
Although he hadn't received one of the letters, he told FE Week: "Coming up with stuff like this after the data was finalised is ridiculous. We are not talking about high level fraud here. If there is inadequate data it is because we were not given the right guidance."
Among the providers to have received the letter was Newcastle College Group (NCG), which had the greatest final Adult Skills Budget funding figure among colleges last academic year at £31.7m. Its group director of planning and performance, Chris Payne, said: "We put a lot of time and effort into our data collection and are always keen to ensure our returns are as accurate as possible, so we await the more detailed response from the SFA alluded to in the letter."
It follows a difficult year for SFA data collection with repeated breakdowns of new online systems, although a spokesperson said the letter was not connected to the problems.
Stewart Segal, chief executive of the Association of Employment and Learning Providers, said: "The issues should have been clear from error reports through the year, but we know that there have been some data collection issues over the same period."
Julian Gravatt, Association of Colleges assistant chief executive, said: "The biggest immediate problem for colleges who received this email is that they don't know how much the SFA will request as repayment.
"It's clearly essential that college data is accurate and their funding claims correct, but the software supplied to colleges to manage funding didn't work properly. If the SFA has now found errors, these weren't picked up by the auditors who visited a sample of colleges in September."
Dr Lynne Sedgmore, 157 Group executive director, said: "The timing and vagueness of this important funding communication is undesirable and will have caused concern to colleges over Christmas. We expect the SFA to move swiftly in January to give colleges exact details of their supposed overclaims."
An SFA spokesperson said: "We will now begin to work with these training organisations and colleges to check that their data is correct."
Editor's comment
Not time for blame over reclaim shame
While it's hard to imagine too many SFA emails and letters leaving FE and skills staff with a warm, fuzzy glow, it's even harder to imagine they could have been expecting the bombshell that came from Una Bennett before Christmas.
MIS managers up and down the country, who are no strangers to wanting to tear their hair out over SFA systems, will have gone into the festive period dreading the conversation with their principal or managing director in which they reveal their final funding submissions contained errors.
Their bosses could not have known that more than 700 providers — well over 50 per cent of all SFA-contracted colleges and independent learning providers — had also received Ms Bennett's letter warning that money would have to be given back.
But with so many affected, it seems unlikely the fault lies with provider staff. However, this is not the time for blame.
Now is the time to ask why this problem was discovered so late — even after the SFA's own auditors had given sign-off.
It is also the time to ask why there is so much uncertainty surrounding what the errors were, not to mention how much money the SFA will be taking back.
Presumably different SFA auditors will be signing off the amounts it will be looking to reclaim.
Chris Henwood
chris.henwood@feweek.co.uk