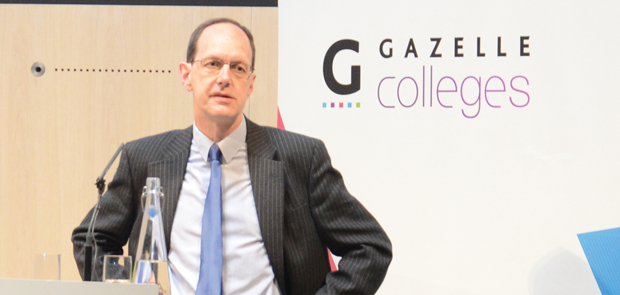 The abolition of GCSEs in favour of tests at the age of 18 has been put forward by Confederation of British Industry (CBI) director general John Cridland.
His New Year message, released today, outlines a system of "tailored learning plans" for 14 to 18-year-olds, complemented by the "abolition of GCSEs at 16".
"Britain's young people are streetwise and impressive, but our education system doesn't always serve them well," said Mr Cridland.
"While the average is gently improving, we see too many left behind, and others who could be high achievers not fulfilling their potential. We need to get the basics right first time in primary school and then provide a personal menu of tailored learning plans for all 14 to 18-year-olds offering high quality academic and vocational A-levels, and encouraging young people to mix and match, depending on what's right for them.
"This will involve the eventual abolition of GCSEs at 16, as peak level testing would then take place when students are 18.
"By boosting skills we will see productivity rise — along with earnings. And business will play its part by improving competitiveness, and creating opportunities for young people through apprenticeships, and for older workers through workplace retraining."
The CBI argues that the case for examining at 16 is weakened with the raising of the participation age to 18 — "especially as it perpetuates the single-track, academic approach that weakens our vocational system," said a CBI spokesperson.
"Instead, we want each young person to have a learning plan, tailored for them from 14 to 18, with the peak assessment taking place at 18. Everyone would do some form of English and maths, plus a mix of academic or vocational A-levels."
Mr Cridland's message comes with the countdown to the May 2015 general election well under way.
"A year of change and challenge beckons for us all as we hurtle towards the general election," he said.
"It has been a successful year for the UK economy, and we have emerged stronger and more able to tackle the challenges ahead.
"Our economy is among those enjoying the fastest growth among the G7 nations, with 1.2 million jobs created this year and employment set to grow in every region of the UK in 2015.
"But the political and economic risks at home and abroad represent a clear and present danger. As the election countdown accelerates, I urge politicians of all hues not to take their eyes off the economic ball.
"We must sustain the best launch pad for the UK economy and our young people. Cementing Britain's reputation in the world as one of the best places to do business has to be a top priority for 2015."
He added: "There is much more to do but the signs are positive. UK growth is expected to hit 2.5 per cent in 2015.
"Restoring wage growth will help more people feel that they are benefitting from the recovery, but the upsurge in productivity required will only follow on from increasing skills across the piece.
"I'm optimistic that we can grow living standards, spread the benefit of growth for the country and move forwards with confidence if we make the right choices. Let's get on with it."