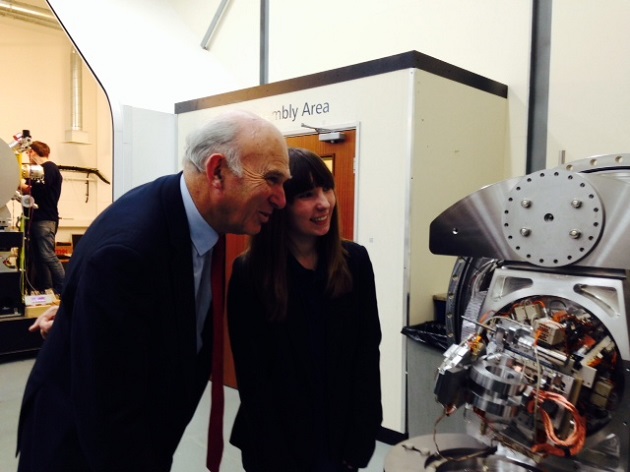 Business Secretary Vince Cable was at Abingdon and Witney College to mark the "two millionth" apprentice.
He met 16-year-old Paige McConville in Oxford, where she began her advanced apprenticeship in engineering manufacture with high-tech engineering firm, FMB Oxford in August.
The Business Secretary also visited the college where Paige and her fellow apprentices study.
Dr Cable said: "Reaching the two millionth apprenticeship is testament to this Government's commitment to apprenticeships. Paige and her employer are a shining example of how apprenticeships give young people the chance to start a career and give businesses the talent to grow.
"This isn't just about numbers. From space engineering, to TV production, to legal services, apprenticeships are the ticket to a great job and a route employers trust to access the skills they need."
The government claims to have hit its target of two million apprentice starts in this parliament. However, a number will be the same learner counted at least once where they may have either started a programme and then changed, or progressed a level.
Skills Minister Nick Boles said: "Apprenticeships have a vital role to play in supporting the long term economic plan. Thanks to our reforms and through the support of employers like FMB Oxford, apprenticeships are a solid route into some of the country's most prestigious professions.
"Two million is just the start – I want to see more employers making apprentices a key part of their strategies for growth."
Richard Atkins, president of the Association of Colleges (AoC), said: "We're pleased that the government has fulfilled its commitment to starting more apprenticeships giving many young people the business-ready skills for their chosen career.
"Further education colleges are well-placed take on the role of expanding higher technical, professional and vocational education so we are delighted that Paige McConville, the two-millionth apprentice, is studying at Abingdon and Witney College.
"However apprenticeships are only part of the answer. Employers and colleges should be given the flexibility to work more closely together to develop learning programmes and qualifications which are relevant and up to date, so that young people and adults can gain the skills required for the modern workplace.
"We would like to see a continued commitment to skills training from the next government, including the development of a pre-apprenticeship programme to support those who are not yet ready to take up a full apprenticeship with an employer."
The Business Secretary also announced 22 new employer-designed apprenticeships in professions ranging from data analysis to civil engineering to health and social care. The employers, who are part of the Government's trailblazer scheme, design apprenticeships to meet the needs of their industries making sure people have the right skills to get on in the world of work.
Jayne Sloane, group training manager of trailblazer employer Costain, said: "The trailblazer apprenticeships give us the opportunity to ensure apprenticeships are fit for purpose and provide our industry with the skills needed for the future."