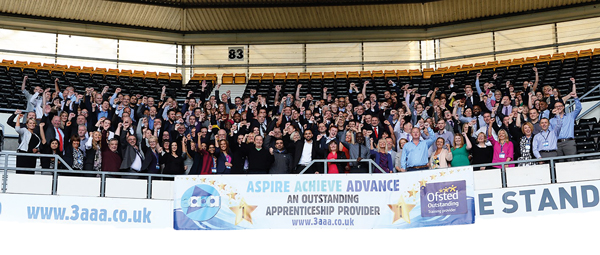 Two independent learning providers (ILPs), one offering IT and accountancy apprenticeships and the other training the nation's future tennis stars, have won outstanding praise from Ofsted.
Both Aspire, Achieve, Advance (3aaa) and the Lawn Tennis Association (LTA) were served grade one results in all headline fields.
Ofsted said the 780 apprentices at 3aaa, which has its headquarters in Derby, "make excellent progress which leads to high success rates, outstanding contributions and early positions of responsibility in the work place, and sustainable employment".
"Apprentices learn well in a highly motivational environment, benefitting from excellent teaching and a strong support culture," the report said.
The inspection, which took place between October 20 and 24, was 3aaa's first since it was founded in 2008.
Co- founder Peter Marples said he was "absolutely delighted" by the grade. "This is indeed a reflection of the sheer dedication, hard work and commitment of everyone — staff, employers and partners," he said.
Co-founder Di McEvoy-Robinson, said: "We have worked exceptionally hard to understand the needs of employers at a local level and fit those needs, so to be recognised by Ofsted for this is such an achievement."
The LTA's tennis coaching apprenticeship provision for 16 to 18-year-olds was inspected between October 6 and 10.
The report on the 239-learner organisation, which previously had a good grade, found "learners make exceptional progress in improving their playing and coaching skills and are very well prepared for their future careers as players or coaches".
Inspectors visiting the London-based ILP also noted managers ensured the apprenticeships "meet the needs of British tennis outstandingly well". They were the third and fourth outstanding ILP reports published this academic year, after reports on SW Durham Training in August and The Military Preparation College the following month. They were also the eighth and ninth ILPs to be judged outstanding under the current common inspection framework, introduced in September 2012.
No one from the LTA was available for comment.