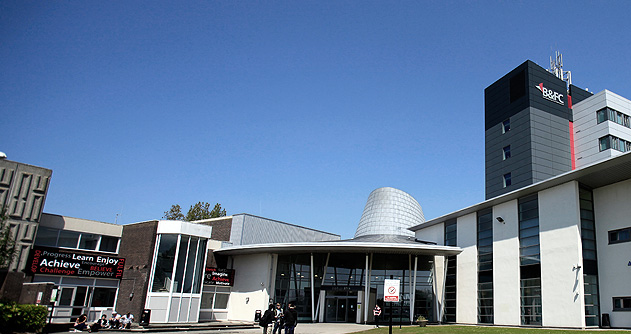 The training of engineers for the fracking industry will be led by Blackpool and The Fylde College after the government awarded the contract for another national college.
The college has been unveiled as a hub for the National College for Onshore Oil and Gas, which is being established by UKOOG, the representative body for the UK onshore oil and gas industry.
It means the college will be the focal point for the training of engineers for the controversial practice, which involves mining for shale gas by firing a mixture of water, sand and chemicals at rocks to release trapped gas.
The college is expected to provide qualifications from A-level equivalent up to postgraduate degree level, and train teachers and regulators. It will also accredit training and academic courses run by other institutions.
College principal Bev Robinson, right, said: "This is very positive news for Blackpool, the Fylde Coast and the whole of Lancashire.  We are delighted to be able to contribute to the country's energy
industry and ultimately production capacity.
"Crucially, this will drive long term investment in the region, meet the demand for highly skilled labour and secure local jobs. To be named as the hub for one of the National Colleges is a privilege. It is testament to the college's well established relationships with industry partners and high quality skills training up to and including honours degree programmes."
The announcement comes a year after Ofsted awarded the college a grade one rating. It is thought to be the third national college unveiled by the government following plans for a nuclear college and a high speed rail college in Birmingham and Doncaster.
The fracking training will primarily be delivered through the college's new Advanced Technology Centre, was announced by former Skills Minister Matthew Hancock, who is now energy minister, during a visit to the college this morning.
The bid, made by UKOOG, was supported by the Lancashire local enterprise partnership and businesses including Centrica Energy and Cuadrilla Resources.
UKOOG chief executive Ken Cronin said: "Our vision is of a thriving onshore oil and gas industry employing highly-skilled British workers and operating as an international centre of excellence.  A National College will help to train the next generation of onshore oil and gas specialists, providing first class qualifications and career opportunities for young people.
"It will be led by the industry to ensure that the training programmes meet industry needs and reflect evolving best practice in drilling, hydraulic fracturing, site development and environmental management."