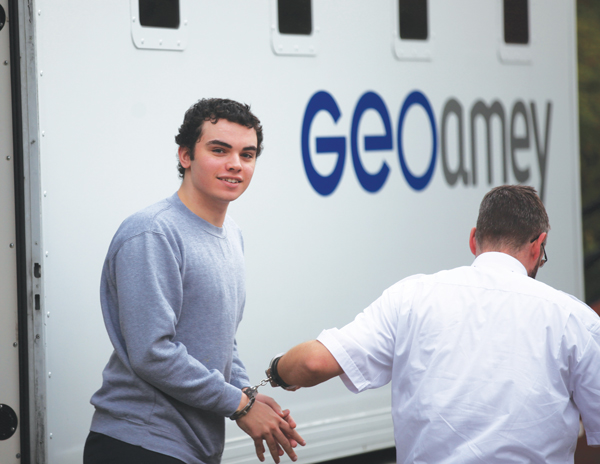 The principal of a college at the centre of an alleged bomb plot has sought to reassure staff and learners after a teenager appeared in court charged with possession of a gun and pipe bombs.
Newcastle College boss Carole Kitching said it remained a safe place to study after Liam Lyburd, believed to be a former learner at the college, appeared before magistrates in nearby North Tyneside on Thursday (November 6) accused of plotting to "cause serious harm".
He spoke only to confirm his details and was remanded in custody.
Ms Kitching confirmed that police officers would patrol the college campus for an undetermined period of time after 18-year-old Lyburd, of Hamilton Place, Newcastle, was arrested on Monday (November 3) following a report to police of concern for a person at an address at Hamilton Place.
Lyburd was charged on the Wednesday night with possessing a firearm with intent to endanger life, possessing ammunition with intent to endanger life, and five counts of possessing an explosive substance, namely a pipe bomb, with intent to endanger life.
Ms Kitching said: "I would like to reassure staff, students and their families that their safety has been paramount to us and the college remains a safe place to study.
"The security team already works in close partnership with the local neighbourhood policing team and this will continue. Officers will be on patrol around the campus to offer reassurance and anyone who is concerned can speak to an officer or contact the college's welfare team.
"People should attend the college as usual. We have an extensive network of CCTV cameras monitoring key areas inside buildings and across the campus and our security staff are on duty 24 hours a-day."
A police spokesperson said: "The investigation to date has revealed that there was intent to cause serious harm at Newcastle College, we are confident that we have prevented the incident from taking place.
He added: "Enquiries are continuing into this incident."
The case has been sent to Newcastle Crown Court, where Lyburd is due to appear on November 20.