The results of the final Institute for Learning (IfL) survey of teachers and trainers in FE and skills are presented by Shane Chowen, IfL policy officer (communications and research).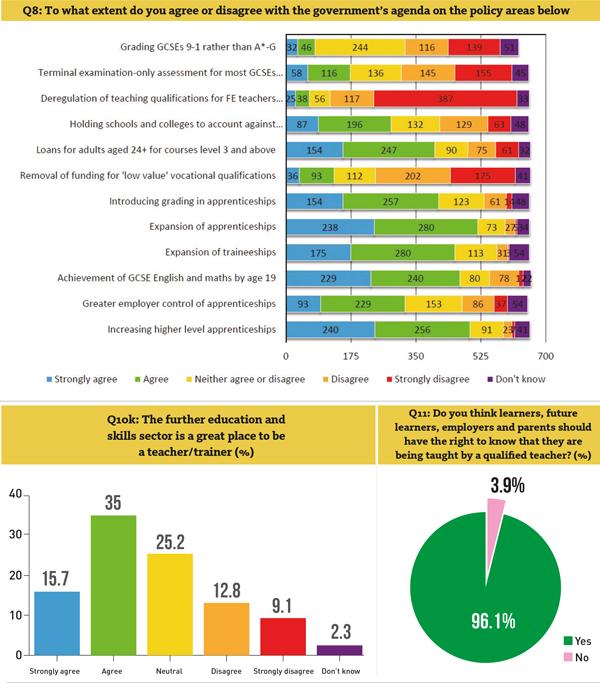 It has been a privilege to work for FE teachers and trainers as the IfL's policy officer for the last three years.
My policy colleague Rachel Cooke and I have worked together, consulting IfL members and representing their views on a plethora of consultations involving more than 50,000 practitioners.
Often, these were in reaction to government or sector organisations and so, given the pace of change in FE and skills, we rarely had the opportunity to ask the questions we really wanted to ask.
In June, the IfL launched what was to be our final major member consultation — an omnibus survey for members and non-members to complete over the summer.
The questions were designed to provoke reflection and creativity, two things that IfL has long valued in the considered insights of teachers and trainers.
The survey, and consequently the report of the findings, had three main sections: questions about professionalism, professional identity and careers; questions about policy; and questions about continuing professional development.
We received more than 1,200 responses. One of the best things about working for IfL has been the ability to connect with practitioners across all parts of the FE and skills sector. This survey was no exception.
We had responses from teachers and trainers in the armed forces, public services and employer providers as well as FE colleges and independent training providers.
We wanted to be able to record the reflective perspective of practitioners on what it is about the job that gets them out of bed in the morning and what can be improved.
More than anything, it seems that the central motivation for teachers in FE and skills is the successful achievement and progression of learners.
Time and time again we saw phrases like "light-bulb moments," "when students get it" and "when you see learners get where they wanted to go".
In terms of improving the job, practitioners across the sector talked about redressing the balance between teaching and administrative duties.
Echoing the sentiments articulated by Education Secretary Nicky Morgan in her speech at the Conservative Party conference this year, teachers and trainers in our sector do not feel that enough time can be dedicated to planning and evaluation, thus potentially inhibiting creativity and innovation in the classroom.
Too many examples were presented of planning, reflection and professional development not being considered legitimate parts of the working week.
Careers advice and guidance is a big theme in our sector's narrative, but how often do we invest attention to the career paths of our own people?
Our research highlights that most teachers and trainers see career progression in terms of becoming more advanced and experienced teaching professionals, rather than being 'promoted' to management positions.
Teachers and trainers in FE and skills are aspirational, and IfL research shines a light on the kinds of roles and activities — teaching, management, professional or academic — they consider in their career aspirations.
If an FE teacher or trainer were appointed as the minister responsible for the sector after the next general election, the lack of fair funding would be a key priority.
his finding comes from an open question inviting survey participants to list five things they would seek to achieve if they were the minister for FE and skills. Other priorities included reinstating requirements for teachers to undertake teacher training; ensuring school leavers had the right skills to progress to FE; and increasing freedoms and flexibilities for teachers by redressing workload issues.
Teachers and trainers also felt that their local labour markets were failing to provide good jobs for their learners; that the general public had become more aware of FE than previously; and that the current education and skills system was not sufficiently accessible for adults who need retraining.
I commend these findings to the sector as valuable insight for further development of pedagogy, policy, professionalism and professional development in our sector.
Pictured: a selection of the findings from the IfL report Pedagogy, policy and professionalism — its final survey