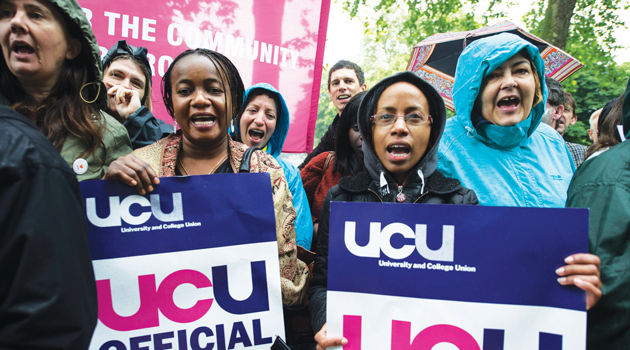 Lambeth College staff who went on a five-week strike just before the summer holiday and are considering further industrial action have been presented with "improved" offers over controversial contract changes.
University and College Union (UCU) members walked out indefinitely on June 3 in a dispute over new staff contracts introduced on April 1, which the UCU said would leave staff with longer working hours, less sick pay and less annual leave, before returning to work on July 9.
The UCU opened a ballot on September 22 on whether to renew strike action ahead of scheduled talks between college and union leaders on Monday (October 6).
A spokesperson for the UCU said on Thursday (October 9) that it was now considering "an improved offer from the employers" before the ballot was due to close today (October 13).
A college spokesperson said it had offered a guarantee that staff taken on before April 1 would stay on the original contract until at least September 2017.
Alternatively, existing staff could accept a £1,500 "cash incentive" to transfer to the new contract by September 2016.
The spokesperson said both options would be dependent on staff agreeing to work an extra hour per week from September — increasing their overall annual working hours from 828 to 864.
Principal Mark Silverman told FE Week: "I would urge UCU to accept the opportunity to end this dispute and ensure that our learners will not suffer the damage of further strike action.
"This offer will enable the college to have a contract that is fit for purpose and will allow us to continue our journey of improvement to secure an outstanding college for Lambeth and south London.
"Should UCU reject this offer and return to strike action we will take every necessary step to prevent disruption to our learners."
A UCU spokesperson, who confirmed the ballot would still close today, said: "We did meet [with college management]. We received an improved offer from the employers which we are now considering."
The college was slapped with an Ofsted grade four rating in 2012 but worked its way up to a grade three last year.
The new contracts at the centre of the row offer 50 days a year annual leave, including bank holidays — which is 10 days less than that given to staff on old contracts.
However, Mr Silverman has said the terms of the contract were "in line with sector norms".
He said they were part of the college's recovery plan following financial deficits of £4.1m in 2012/13 and £3.5m this year.
Main pic: UCU members at Lambeth College on indefinite strike in June