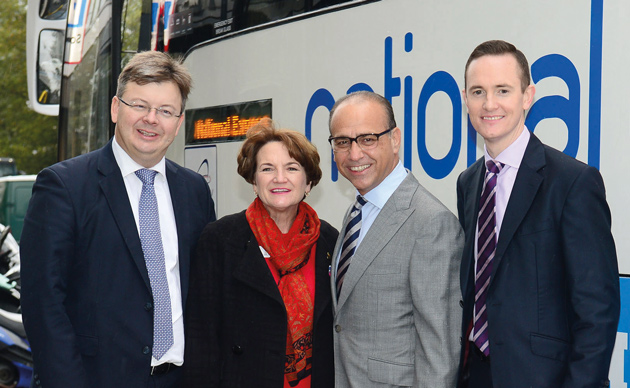 Plans for the third annual Skills Show have been unveiled, featuring more than 50 hands-on activities, a new tour bus and 'late show' preview.
Former Dragons' Den investor Theo Paphitis was on hand at London's Skyloft to run through the careers advice and have-a-gos that will be on offer alongside the finals of national skills competitions at the November 13 to 15 event at Birmingham's NEC.
A tour bus to take the Skills Show experience around the country was also revealed, along with the Skills Show Late — a preview event for the main attraction, which is expected to attract around 80,000 youngsters.
The launch, on Wednesday (October 8), featured some taster have-a-gos of its own, including jewellery making, music mixing and computer programming.
"I think anyone who's been to the Skills Show will know exactly what keeps me coming back, it's the enthusiasm and the drive and that's what's going to make it better every year," said Mr Paphitis.
"And when you get a marauding bunch of tens of thousands of kids actually enjoying thinking about work, you know you've cracked it, and that's the biggest challenge any educationalist has, and that the challenge any employer has — it's such a great event."
The finals of the national skills competitions will also take place at the Skills Show, with top-scoring competitors hoping to be talent-spotted as a potential competitor at WorldSkills 2017 in Abu Dhabi.
Carole Stott, chair of Find a Future, the body which oversees the Skills Show said: "Skills competitions are at the very heart of the show. This year, in order to bring the skills competitions part of the show alive for our visitors we're introducing showcase stages.
"We're going to be showcasing 33 skills competitions, using demonstrations, talks and conversations with competitors as well as with colleges and training providers to explain the competitions and really help people understand the expertise and excellence that they will see on display in competitions."
The skills on display at the show will be split into five categories: engineering, built environment, IT and business administration, social and professional services and cultural and creative arts.
Each category will have its own hub, with have-a-gos, spotlight stages, featured exhibitors and careers advice.
More than 50 hands-on activities will be available to try including furniture design, electric installation, carpentry, car bodywork, nail art, computer aided design, stone masonry, media make up, robotics, floristry, photography, cooking, animal management, roofing, sound engineering, music production, games design, forensics and beauty therapy.
Main pic: From left: National Express managing director Tom Stables, Find a Future chair Carol Stott, Theo Paphitis, and Find a Future chief executive Ross Maloney
First look at this year's Skills Show
A sneak preview of the Skills Show will be on offer to employers and teachers for the first time this year with the 'Skills Show Late'.
Find a Future chair Carol Stott said: "The Skills Show late on November 13 will be an important opportunity for employers, partners, teachers and stakeholders to network, to speak to sponsors and to engage in a highly innovative and forward thinking debate on the future of technical and professional education."
Skills Show sponsors City & Guilds will also be hosting an employer speed-dating event.
Drilling home Skills Show message with mobile attraction
Skills Show chiefs hope to drive home the skills message with their very own roadshow aboard a specially commissioned National Express bus.
The bus is kitted out for have-a-gos including visual merchandising, engineering, electrical installation, news reading, confectionary and hospitality.
It will be rolling into eight locations between October 21 and November 8, including Leicester, Ipswich, Durham, Liverpool, London, Portsmouth, Bath and Birmingham.
A further 220 regional Skills Show experience events have taken place around the country this year, but that is not enough for Skills Show patron Theo Paphitis.
The entrepreneur said: "Such a great event can't just happen in Birmingham, it's not fair to the rest of the United Kingdom.
"And I know the team at Find a Future are looking at this and trying really hard to find a way to do this — not just having a battlebus going around but having satellite shows and maybe shows just as big as the NEC in other parts of the country because the proof of the pudding is in the eating and there's an awful lot of proof here."