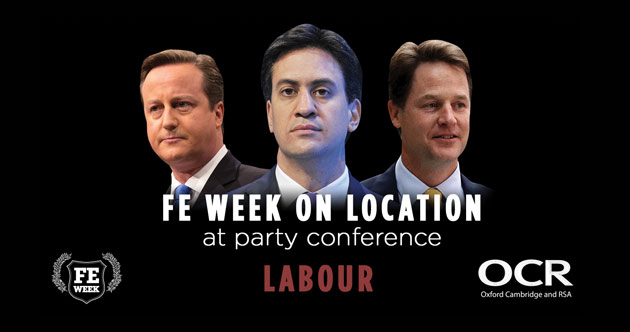 Labour leader Ed Miliband's 2014 conference address has prompted FE and skills sector questions about figures behind his pledge to bring the number of apprenticeship starts up in line with those at university.
In his speech in Manchester on Tuesday, Mr Miliband said he wanted the same number of school-leavers to go on to apprenticeships as university by 2025.
But Labour now faces calls to reveal the numbers behind the claim after one expert told FE Week the scale of the challenge would depend on whether Labour's planned apprenticeship reforms, including a two-year minimum duration and abolition of courses below level three, were taken into account.
Mick Fletcher, a founder member of the Policy Consortium, said: "It sounds an ambitious target, but he has wisely given himself a decade to get there, and depending on the precise calculation used it could be quite challenging, or we might be there already.
"There are currently about 650,000 18-year-olds and similar numbers aged 19 and 20. Around 35 per cent of 18-year-olds apply to higher education and a further 10 per cent of 19-year-olds apply for the first time each year, allowing for the fact that not all are accepted but that others apply later, perhaps a maximum of 300,000 will enter higher education by age the age of 24.
"The figure for 2012/13 was actually 273,000, but removing the cap on student numbers may increase participation a little by 2025.
"In 2012/13 the number of apprenticeship starts for the 19 to 24 age group was 161,000. Starts for those aged 16 to 18 were 112,000, giving 283,000 — on current year numbers therefore we are there already.
"Even if we only count the half of the 16 to 18 category who were 18 year olds, to meet the target still only requires an increase of 73,000 or 32 per cent — a bit under 3 per cent per year.
"On the other hand were Labour to scrap apprenticeships at level two and those lasting under two years there would be a real struggle — they'd have to at least treble the number of places offered at level three — currently there are fewer than 100,000 starting level three apprenticeships of all lengths.
"Creating more places is one issue — funding them is another. It is possible that the ambition could be funded by reducing the total of 222,000 who started an apprenticeship after the age of 24 — even allowing for the lower cost of older apprenticeships there's plenty of headroom."
It comes after the FE sector called for an emphasis on quality and the establishment of an "apprentice charter" in response to Mr Miliband's comments.
David Hughes, chief executive of the National Institute of Adult Continuing Education (Niace), said: "We are keen to support the next government's ambition on apprentices by implementing an apprentice charter. This will be written from the perspective of each apprentice and signed-up to by government, employers, learners and providers.
"It will enable them to see what each apprenticeship will involve, setting out the opportunities, experiences, support and feedback an apprentice can expect at different stages. It will also give the apprentice a clear understanding of the contribution they must make.
"What's needed is not just an apprenticeships revolution but an adult skills revolution that unlocks the talents of all."
Richard Atkins, president of the Association of Colleges, said Mr Miliband was, "right to put pressure on employers," adding: "Too few do so at the moment, both from the public and private sectors.
"Giving employers a strong say in apprenticeships is absolutely right, but at the same time the interests of apprentices need to be respected. They need to learn skills that are portable, and not specific to a single employer.
"Colleges have a long tradition in providing technical and vocational education, and are ideally placed to deliver training as part of the apprenticeships."
Kirstie Donnelly, UK managing director of City & Guilds, said: "What we need now are details from Labour about how these additional apprenticeships will be created and how they intend to ensure that quality remains high."
It comes after Association of Employment and Learning Providers chief executive Stewart Segal and 157 Group executive director Lynne Sedgmore warned Mr Miliband's proposals to apparently increase apprentice numbers risked prioritising "quantity over quality".
Mr Segal told FE Week: "It's great that it's such a top priority, but we don't want to fall into the trap of being driven by numbers and by particular routes.
But he warned that any law to force employers to hire apprentices based on quotas could backfire.
He said: "I don't think it should be legislation. It's too complex and there are too many variables to try to determine what employers have to do. But I do think there is a long was to go to encourage employers to run apprenticeships and make it easy."
Dr Sedgmore said: "The pledges he is making are positive and I am pleased it is so high on his agenda.
"However, while it is important to increase the number of apprenticeships on offer it is crucial that all apprenticeships are of a high quality.
"We would like to see this initial pledge backed up very quickly by plans for how all apprenticeships will become a pathway to valuable and sustainable employment.
"I laud his vision of parity of esteem, it is a powerful one. But that vision will only be realised through building a world class apprenticeship system where all apprentices, young people and adults, are given the best possible learning experience with long-term benefits for them and for the economy."
Conference also heard from Shadow Education Secretary Tristram Hunt, who
told delegates improving technical education was one of his three key campaign
He said: "A Labour Government will ensure Further Education colleges focused on training for local jobs, proper apprenticeships lasting two years, a technical baccalaureate, with respected qualifications, careers advice, technical degrees so young people can earn and learn."