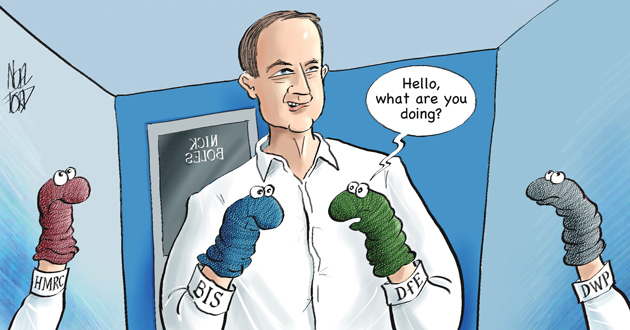 Further Education leaders have backed Skills Commission findings that government departments were failing to work together on skills policy.
The commission's interim findings warned of a lack of joined-up working between Skills Minister Nick Boles's departments for Business, Innovation and Skills (BIS), and Education (DfE), plus Work and Pensions (DWP) and Her Majesty's Revenue and Customs (HMRC).
The Association of Employment and Learning Providers (AELP) agreed with the findings and called for closer links between employability and skills programmes and consistent application of the VAT rules.
Stewart Segal, AELP chief executive said: "There should be more coherence between programmes for the unemployed, including more integrated contracting processes, success measures and payment methodologies."
David Hughes, chief executive of the National Institute of Adult Continuing Education (Niace), pointed to the Niace manifesto, released earlier this year, calling for a combined government department for education, skills and work.
The lack of joined-up working at government was one of four barriers to "successful skills policy," according to the commission, whose four-page interim report came out on Tuesday (September 23).
The others were uncertainty around responsibility for training in an increasingly flexible labour market; declining social mobility owing to a reduction in the alignment of skills provision to work; and, fragmentation in the system making it difficult for employers to engage.
Inquiry co-chair and Further Education Trust for Leadership president Dame Ruth Silver said: "It is right we raise these four trends as 'alerts', such is the gravity of the threat they pose, and the urgency with which they must be addressed."
An Association of Colleges spokesperson agreed there had been "a worrying decline in opportunities for adults to learn and train" and said government departments had "a shared responsibility for tackling this together".
Lynne Sedgmore, 157 Group executive director, agreed, saying: "The report echoes what we hear from members and what we have been saying to government for some time."
A spokesperson for BIS, DfE, DWP and HMRC said the government had "made it easier" for young people to move between work and training but further groups from across the sector agreed with the commission's findings.
"This government is absolutely committed to boosting the skills of  young people and helping them realise their ambitions,"
she said.
The commission's final report is due out at the end of next month.