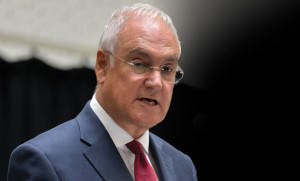 Ofsted boss Sir Michael Wilshaw has told of his shock at GCSE English and maths attainment levels and teaching quality — and just days later figures for 2012/13 revealed nearly half of 16 to 18-year-olds without at least grade C in GCSE English or maths failed to repeat or even study alternative qualifications at the same or lower levels.
The chief inspector warned that "alarm bells" should be ringing over 16 to 19 study programmes, which were launched last year — after the period of the Department for Education figures — and requiring learners without grade C in GCSE English or maths to keep working towards the achievement.
The figures for 2012/13 further showed that of the total number of key stage four learners that did not achieve A* to C GCSE in English (188,365) and maths (211,171) only around 18 per cent were re-entered for either. And in total, just 6.5 per cent then achieved at least C in English and 7 per cent in maths.
Schools Minister David Laws said: "These figures show that prior to our reforms too many young people were allowed to give up these subjects without achieving the levels required by employers."
But Sir Michael, speaking ahead of a lecture by the education watchdog's FE and skills director Lorna Fitzjohn, expressed fears that young people were not "well served" by study programmes.
"Too few students make sufficient progress in improving their skills in English and mathematics, because the teaching they receive is simply not good enough," he said.
He said: "The gap between the good intentions of government policy in relation to this age group and the reality of what is happening on the ground is worryingly wide… our recent surveys of the 16 to 19 study programmes and youth participation, should ring alarm bells for policy-makers and also practitioners.
"The simple truth of what's happening at the moment is that too many young people, particularly those from disadvantaged backgrounds, and those who want to find vocational pathways, are not yet being well served by these programmes… as chief inspector, I am very concerned."
Sir Michael also used his speech to talk about the potential impact of not preparing young people for the world of work, claiming that a "sloppy attitude to punctuality" and a "lackadaisical" attitude could stem from poor employability skills teaching.
He said: "Our most recent report on careers guidance, published this time last year, is one of the most damning documents that Ofsted has ever produced."
He added: "Again, it's quite shocking that 84 per cent of youngsters who don't get their GCSE at grade C in English and maths at 16 fail to achieve these grades at 19.
"Above all, I am particularly concerned that education and training is not preparing young people well enough for work. Many employers complain that far too many young people looking for work have not been taught the skills, attitudes and behaviours they need to be successful in the world of work.
"And what does this actually mean on the ground? It means they have a sloppy attitude to punctuality. It means they are far too relaxed in terms of meeting deadlines to produce work. It means that far too many young people are lackadaisical in the way they present themselves for work. If they dress inappropriately, speak inappropriately, and have poor social skills, they are not going to get a job.
"Youth unemployment in our country is far too high, and it is in everyone's interest to ensure that young people receive the very best education and training to improve this situation.
"And the consequences, if we don't get this right, are too serious to ignore."
Editorial
In October last year, we reported how new DfE figures showed the majority of students achieving a GCSE grade D in English and maths were not then being re-entered for the qualification at sixth form or college.
In his editorial at the time, my predecessor Nick Linford was rightly critical of colleges for offering alternative qualifications, such as functional skills, to these learners where achieving the grade A* to C GCSE would have overcome a barrier to employment.
We now know nearly half of all those not achieving the grade C, not just those with a grade D, were neither entered for GCSEs nor functional skills in 2012/13.
In fact, they didn't even study an alternative entry or level one English or maths qualifications.
The government has acted, as English and maths lessons for those 16 to 18-year-olds without a grade C or above at GCSE became a funding requirement as part of a study programme from this year.
And from 2015/16 a learner leaving school with a grade D GCSE in English or maths will have to retake it.
Yet these new government requirements are worth nothing if the teaching and success rates are poor.
The Ofsted's verdict on study programmes last year is not good.
So the whole school sixth form and FE sector needs to step up to the challenge.
What must be avoided as a response is the shirking of responsibility and, like many employers, the raising of entry criteria and thus refusing to take on 16 to 18-year-old learners without GCSE Cs and above.
The government needs to be alert to that risk, as it would be an unintended tragedy.
Chris Henwood, editor