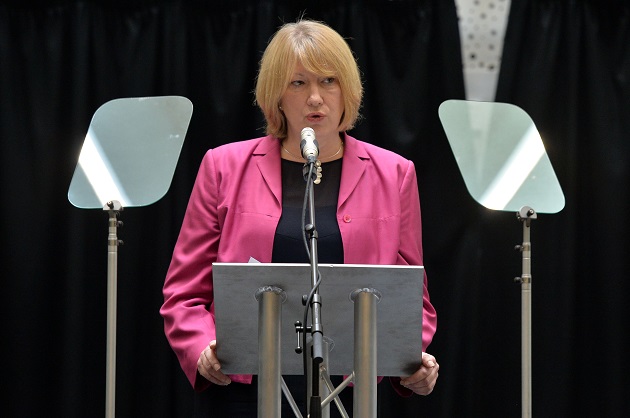 Implementation of the government's study programmes among providers surveyed by Ofsted has been "too slow," the education watchdog's director for skills has said.
Ofsted director for FE and skills Lorna Fitzjohn (pictured) made the comments during her lecture today at Spotlight youth centre in Poplar, East London.
Ms Fitzjohn used the lecture to release Ofsted's report on study programmes, which were launched by the government last year and require learners aged 16 to 19 to demonstrate progression to a higher level of attainment, take part in work experience and study maths and English to level two if they have not done so already.
She began her lecture on the subject of youth unemployment, claiming that 1,184,000 young people aged between 16 and 24 did not have a full time job and were not attending full-time education or training courses, and that 955,000 of these were considered not in education, employment or training (Neet).
Ms Fitzjohn said: "The 16 to 19 study programmes, introduced on August 1 last year, seemed to hold some of the answers. They were developed to provide a step-change in provision for all young people. All learners aged 16 to 19 should now be on individualised programmes which support their progression to their next planned step, be it further, higher education, training or employment.
"We used inspection findings and specific visits to explore how well providers were adapting their provision in line with the new requirements. The survey [on youth participation] explored how well local authorities, schools, FE and skills providers and the voluntary and community sector ensure effective participation of all 16 to 19-year-olds in education, employment or training, especially those who are disadvantaged.
"Both surveys identified a few providers with good practice, but much more needs to be done to ensure a secure future for all of those aged 16 and beyond."
She added: "I fully acknowledge that the field work for our survey, undertaken in the first six months of the programme, only captured providers' initial stages of implementing this new provision, however, even though providers had a full year to prepare, inspectors found little evidence that the transformational step-change intending in schools, academies and FE and skills providers sampled.
"Too many of these providers had not changed what they offered sufficiently. They were not yet offering programmes which met the pre-requirements of the study programmes. In particular we were concerned that too many learners were not progressing to a higher level of study to meet their educational potential or career aspiration, particularly on those level one and two programmes.
"Most of the providers didn't use work experience effectively. Inspectors also found that the introduction of these programmes had disappointingly led to little change to level three programmes. Many school and academy leaders seemed to be unaware of the requirements, and the implications for sixth form provision. Implementation in these contexts was too slow."
She also used the lecture to call for extra powers for councils, which currently have a duty to record data on the status of young people, but don't have the legal power to demand the information from providers.
She said: "We need to know the world we are in better. Understanding fully the extent of youth unemployment is made difficult by the lack of definitive data on the number of young people who are in fact Neet.
"Quite simply, there are far too many people who are un-accounted for. The category used for these people is 'current activity unknown'. They are often called the unknowns. If you don't know who these young people are, how can you support them?"
Sixth Form Colleges' Association deputy chief executive James Kewin said: "It is very early days in the life of study programmes, but this report provides some useful initial insights and recommendations that will aid their development.
"The study programme model, particularly the flexibility it provides, has been welcomed by sixth form colleges. However, the accompanying reduction in funding (more than 15 per cent for some institutions) has been less welcome – greater flexibility has come at a very high price for sixth form colleges. The government has got the model right but the funding wrong for 16 to 19 education.
"Sixth form colleges will build on the findings in this report. At the same time, Ofsted and the Department for Education [DfE] should ensure that their inspection and audit regimes do not penalise institutions that are adopting the flexible and innovative approaches to delivery that the report encourages. There must also be an acceptance that it is colleges and schools that are best placed to make decisions about the content of individual study programmes."
Lynne Sedgmore, executive director of the 157 Group, said: "Coming, as this survey does, less than one year into the implementation of the most
radical reform to 16 to 19 education for many years, it is perhaps unsurprising to see Ofsted's comments about the pace of change.
"We know from other countries with high-performing education systems that major change takes time to embed and to produce results, and we know there is more to do here.
"What is clear from this report is that all those with a stake in the success of the study programmes policy must work together to ensure its success – colleges, schools, employers, local authorities and the government. It is reassuring that today's report acknowledges this, with a comprehensive package of recommendations for all."
A DfE spokesperson said: "The number of young people Neet is at its lowest level since consistent records began. And it is encouraging that this report by Ofsted shows our plan for post-16 education is already having a positive impact just two terms after coming into effect.
"The report shows positive early signs that schools and colleges are entering young people for more rigorous qualifications. In fact, the latest figures show that the numbers of those over the age of 17 taking GCSEs in English and maths are rising, giving thousands more the vital knowledge and skills demanded by employers.
"Following Professor Alison Wolf's ground-breaking review of vocational education we have scrapped thousands of low-quality qualifications so that only the gold-standard, employer-valued courses remain. And providers are now incentivised to ensure young people study valuable courses after we changed post-16 funding from per-qualification to per-student."
See edition 110 of FE Week, dated Monday, September 15, for more coverage.