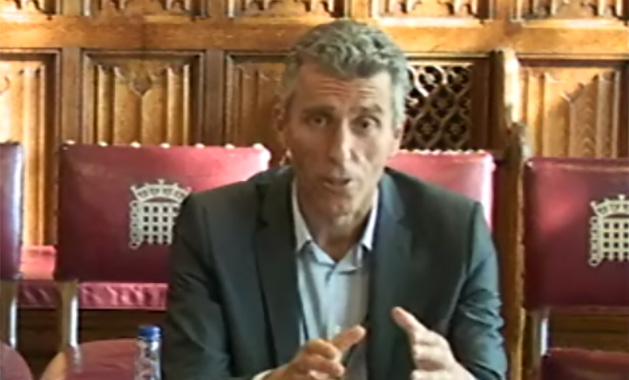 Local enterprise partnerships (Leps) should be given more responsibility and funding to point learners in the direction of opportunities to learn new digital skills, a sector leader has told Lords.
Addressing members of a House of Lords committee looking at the UK's digital competitiveness yesterday morning, David Hughes (pictured), chief executive of the National Institute of Adult Continuing Education (Niace), said the success of Leps at helping to deliver skills was "patchy".
His comments came after Lady O'Cathain, a member of the committee, said people did not know about the responsibilities of Leps to promote skills.
She said: "I think [Leps] are somewhat unstructured at the moment. I don't think people actually credit them with what information they have got or indeed with their ability to pull in all the people mentioned like the chambers of commerce, the unions, the employers.
"It seems to me that if you could tell us if you think it is a good idea to invest in these Leps and try to encourage these Leps throughout the country to take on that responsibility and indeed to channel some funding to it."
Mr Hughes said: "They are very patchy. Their capacity is very different in different parts of the country.
"But you cannot generalise. There are some fantastic examples of Leps with superb approaches to skills and there are others which have got less experience and less capacity so this is an issue which needs to be addressed.
"I think partly you can address that by giving them more responsibility, and my approach would be for the centre which holds the purse strings to do deals with Leps so locally that social partnership of organisations can team up to deliver outcomes that are related to skills and jobs and inclusion."
He added that Leps had an important part to play in promoting courses and qualifications available in certain areas of the country.
He said: "Employers getting engaged with the public bodies locally, with the community organisations, with the learning providers, universities, colleges, independent providers seems to me to be a really important part of the answer.
"Lots of the people we talk to don't understand the system and don't understand what learning they need. It wouldn't be adequate just to put out a big list of qualifications, it would bewilder people.
"What does work, we think, is when people can say there are employers who are going to create these jobs over the next five or 10 years, they are looking for people with these sorts of skills and putting those together. Then the providers of learning, the colleges and universities have to follow and help inform that pattern of delivery. They have to give the flexibility that's needed.
"At the moment, it's so focused on the transition to work and then people get into a first job and they are left, and that seems to be bizarre given that people will be working for 50 years or more potentially, so I think the local focus is really critical. People can understand it, people can connect with employers, understand the local labour market better."