The number of young people not in education, employment or training (Neet) in England is at its lowest quarterly level for nearly a decade, according to government figures out today.
There were 809,000 16 to 24-year-old Neets for April and June — the lowest since 2005 and down 125,000 on the same period last year.
And the figures for 16 to 18-year-olds have been credited with showing the success of the government's raising of the participation age (RPA) policy — which requires young people to continue in education or training beyond the age of 16 — with a fall in the age group's Neet figures on the same period last year by 22,000, to 146,000.
Meanwhile participation for 16-year-olds was at 95.3 per cent — up 1.2 percentage points compared to the same period in 2013.
Skills Minister Nick Boles welcomed the figures as "hugely encouraging," and evidence that government reforms were "properly equipping young people for life in modern Britain".
However, they come the same week that a report from Lancaster University's Work Foundation said the RPA was in danger of becoming a "lost opportunity" if a number of problems were not addressed.
Beth Foley, author of Staying Power: Making the raising of the participation age a policy success (pictured below right), argued for extra investment in careers advice and vocational qualifications.
She wrote: "The quality of many vocational options remains questionable.
"While a number of recent changes to provision have been announced — including the introduction of study programmes, traineeships and reforms to apprenticeships — there are still concerns about take-up, quality and market value of available options. Such issues are exacerbated in an environment where funding for FE has seen significant reductions."
Pointing at recent budget cuts, including the 17.5 per cent cut to the full-time funding rate for 18-year-olds, she said 16 to 18-year-old learners were funded at £4,645 per head in 2012/13, while those aged 14 to 16 got £5,620.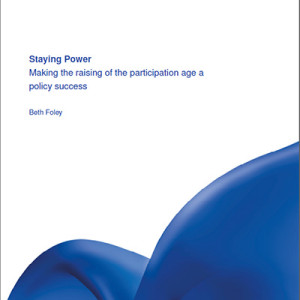 She added: "With providers under RPA having to address new challenges around provision, tracking and learner engagement, we recommend that government reconsiders the justifications for the significant gap that currently exists between spending per head for 11 to 16-year-olds and those aged 16 to 18 now affected by RPA, and the ringfencing only of the schools budget."
The recommendation had echoes of a Lib Dem pledge made by Nick Clegg two months ago, when he said he wanted to ringfence the entire education budget for two to 19-year-olds — although there would be no 16 to 19 ringfence within that. The current budget is only protected for learners aged five to 16.
And the Association of Colleges in May described the ringfencing of school funding as "unsustainable" as it predicted a departmental budget black hole of £4.6bn by 2018/19.
Nevertheless, today's Neet figures show there are now 7,000 fewer 16 to 18-year-old Neets than when comparable records began in 2000, and 91,000 fewer than when 16 to 18-year-old Neet levels peaked in 2009.
Mr Boles said: "Today's figures are hugely encouraging and show how this government's reforms are properly equipping young people for life in modern Britain.
"With the number of young people not in education, employment or training at their lowest levels for nine years we are seeing the huge progress being made to ensure they have the skills to pursue high-quality careers.
"This shows how our long-term economic plan is working and we will continue to focus on securing young people's future."