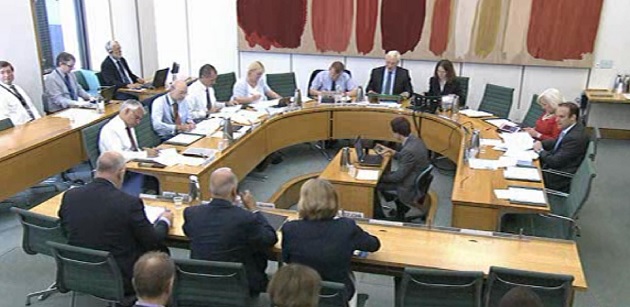 Apprenticeships and traineeships for 16 to 19-year-olds are set to come under the spotlight of MPs, it has been announced.
The House of Commons Education Select Committee (pictured) has called for written evidence for its inquiry to be in by noon on Tuesday, September 30, although no date has been set for hearings.
The nine areas for which evidence has been invited [see below for full list] cover the effectiveness of apprenticeships and traineeships for 16 to 19-year-olds, including whether they meet employers' needs and provide a "solid foundation" for employment.
It will also look at the range of courses available, employer engagement levels, the impact of recent changes to funding and whether government investment represents good value for money.
Further, the cross-party committee's 11 member MPs will look at ways the government might encourage more businesses to offer apprenticeships and the factors which prevent more young people considering apprenticeships.
They will also ask whether young people are adequately prepared for apprenticeships and how the government could encourage more people to take on apprenticeships and traineeships.
The inquiry, which is understood to be the committee's last before the general election, was first revealed by committee chair Graham Stuart earlier this month.
The Conservative MP (pictured), speaking at the Higher Ambitions Vocational Education Summit in London on Tuesday, July 8, said: "This country has traditionally struggled to give vocational education anything close to the status it enjoys in countries such as Austria and Germany, which both noticeably have far lower youth unemployment rates than we have in Britain."
He added: "My committee, its last inquiry before the general election will be into vocational education."
According to official archives, it will be the committee's first inquiry on the subject since the predecessor education and skills committee examined post-16 skills in March 2007.
The inquiry has been welcomed by the Association of Colleges (AoC), where a spokesperson said: "It's good to see apprenticeships for younger people coming under more scrutiny, as this will help to build a better scheme. We look forward to working with the committee on this inquiry."
Association of Employment and Learning Providers (AELP) chief executive Stewart Segal told FE Week: "The terms of reference for the inquiry suggest that the committee has identified some key issues for addressing by policymakers as we approach the general election.
"The Prime Minister has said that he wants school leavers during the next Parliament to have the choice of going to university or starting an apprenticeship and therefore it's important that we engage more employers to offer more high quality apprenticeship opportunities for young people.
"We hope that the committee reviews the evidence from employers to ensure that the apprenticeship reforms are based on what businesses are saying.  AELP also looks forward to sharing with the MPs our views on how the traineeship programme can be made more flexible so that more places with credible work experience opportunities are on offer."
The nine areas on which the committee wants evidence:
1. The effectiveness of apprenticeships and traineeships for 16 to 19-year-olds, including in terms of meeting employer needs in various sectors, and providing young people with a solid foundation for employment in general or in particular occupations, or for further study
2. The range of apprenticeships and traineeships available to young people
3. Current levels of employer engagement in apprenticeships (including in providing places or defining standards and setting assessment), and what further steps the government could take to improve this
4. The impact of recent changes to the funding of apprenticeships and traineeships
5. Whether the government's investment in apprenticeships represents value for money in terms of the future wage returns for young people and their employability
6. How the government could encourage businesses of all sizes and in all sectors to offer apprenticeships, including improved fiscal, regulatory and other measures
7. What factors prevent more young people considering apprenticeships and how these could be overcome
8. Whether young people are adequately prepared for apprenticeships and how that preparation should be improved
9. How the government could encourage more young people to consider apprenticeships and traineeships