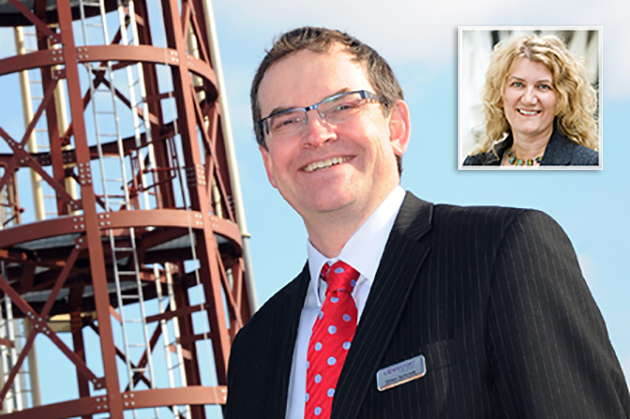 Lowestoft College principal Simon Summers (pictured) is to step down — just a fortnight after it was revealed he took a leave of absence with a report having said his grade three college was not improving fast enough.
Vice principal for curriculum and standards Phillip Belden and vice principal for corporate services Teresa Miller both also took leaves of absence, where they remain to allow a "confidential internal process" to be undertaken, a college spokesperson told FE Week.
Assistant principal Jo Pretty (pictured above right) will take on the role as interim principal at the 4,000-learner East Anglia college until the end of next academic year.
Mr Summers said: "I am proud over the past four years to have led Lowestoft College. During that time we have continued to ensure that students at the college were successful and gained the skills they needed to make a significant difference to their lives.
"I would like to thank all of the staff of Lowestoft College for all of their hard work, professionalism and comradeship during my time at the college; it has really been appreciated.
"I am sure that the skills and dedication of the college staff will ensure that Lowestoft College will get through the challenges posed by the funding and curriculum changes and will continue to deliver excellence."
The college spokesperson declined to comment on how the confidential internal process related to the two vice principals. Mr Summers's leave was also said to have been triggered by the process and it also remained unclear how it related to his position.
The college spokesperson said: "Mr Summers was appointed principal in July 2010 and has led Lowestoft College through a challenging time for FE.
"This period has seen a dramatic reduction in public funding, coupled with significant curriculum change. During this period, Lowestoft College has responded to these challenges.
"The campus has been significantly refurbished and now has the facilities needed to deliver quality education and training. Delivery of maritime, offshore and energy courses has expanded in the college's quest to be a world wide centre of excellence in this field and to support this important sector of the regional economy.
"Through all of this change, Mr Summers has ensured that the students come first at Lowestoft College and that their success is celebrated."
The change in college leadership follows an Ofsted-style review by a consultant who warned improvements at the 350-worker college, rated as requires improvement by the education watchdog in July last year, might not be taking place fast enough for it to move up to a good, or grade two, result from its next Ofsted inspection.
Richard Perkins, chair of the Lowestoft College corporation, said: "A report by an Her Majesties Inspectorate consultant employed by the college to observe improvements since our last inspection in June 2013 indicated that recommended improvements were not being made fast enough for the college to achieve its goal of good, grade two, in its next inspection.
"We are undertaking a process to address these issues and bring about the positive changes in the quality of teaching, learning, leadership and management we need to ensure the long-term future of the college."