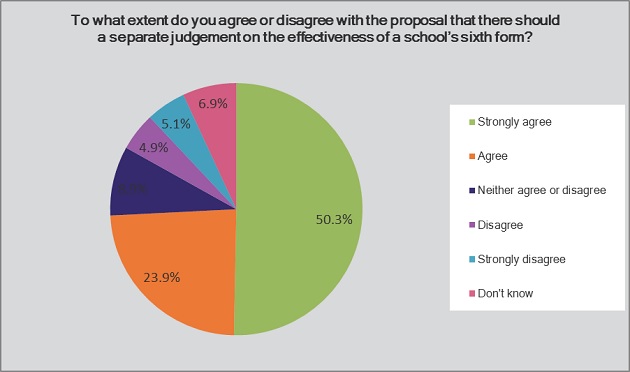 Ofsted's plan to introduce separate graded judgements for school sixth forms next academic year has enjoyed overwhelming support in an official consultation.
It had already been welcomed by much of the FE sector because it will allow school sixth forms to be directly compared with colleges, and more than 74 per cent of consultation respondents agreed, many of them strongly, with the idea (pictured is a pie chart from the consultation report, which can be viewed here).
The response to plans to introduce separate gradings for the Early Years Foundation Stage (EYFS) was also positive.
The report says: "Ofsted will introduce separate graded judgements for the EYFS and sixth form in September 2014. These judgements will be underpinned by separate grade descriptors.
"As with all other inspection grades, inspectors will be expected to gather evidence during the course of the inspection in order to arrive at a professional judgement for each area. Ofsted will deploy inspection teams with appropriate expertise.
"When arriving at the judgement on the quality of education provided by a school, expressed by the overall effectiveness, inspectors will take account of the EYFS and/or sixth form judgements (where relevant).
"However, these will not be 'limiting judgements' on the school's overall effectiveness. Inspectors will consider the outcomes for the EYFS and/or sixth form and make a professional judgement of the impact on the school's overall effectiveness grade.
"We believe that these changes will increase focus in these important areas of school provision and help to ensure that many more children and young people have the best education possible."
The consultation received 1,498 responses, of which 39.6 per cent (536) came from teachers and 20 per cent (271) came from head teachers.
Only 10 per cent of respondents disagreed with the new judgements, which the Association of School and College Leaders (ASCL) said could be down to schools concerned by the impact their sixth forms could have on inspection reports.
A spokesperson told FE Week: "We don't have an issue with the separate grade. This was only removed a few years ago, so schools and colleges will be familiar with the format.
"But in schools where sixth form provision isn't particularly strong, there may be concern about going back to separate grades. However, as the consultation response shows, for most it should not be an issue."