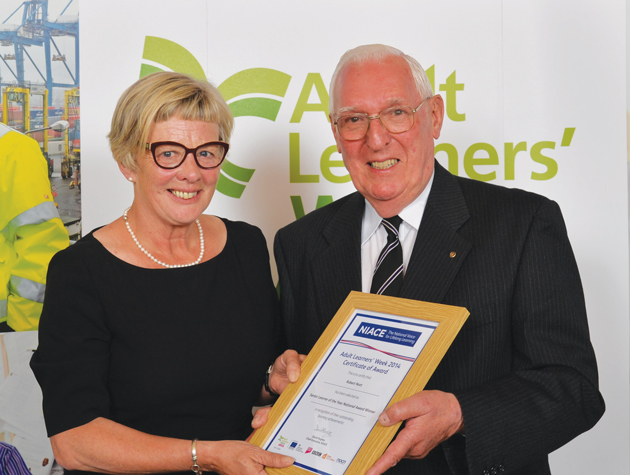 A 79-year-old who counsels people with mental health issues and a 22-year-old who has started a charity to promote science to girls were among the winners at Adult Learners' Week Awards.
A total of 16 awards were given out to individuals, projects and employers at the event in London on Monday (June 16), organised by the National Institute for Adult Continuing Education (Niace).
Senior adult learner of the year was won by Robert Nott, from Kent, who found a new lease of life through learning after retiring.
Fourteen years ago, and at the age of 65, he became a full time student at Canterbury Christchurch University where he studied for an undergraduate and then a masters' degree in business administration.
He said: "There were lots of younger learners when I went to do my degree — and when I went into the students common room I got some very funny looks."
He now volunteers as a counsellor having gone on to take four diploma courses in psychology, criminal psychology and counselling as well as a qualification in teaching English as a foreign language and an acupressure course.
"I just wanted to do it — learning was just something I needed to do," he said.
"As you get older your brain starts to seize up a bit and you've got to keep it up… it's really worth it when you can see the achievements at the end of it."
Young adult learner of the year went to Amy King, from Bexleyheath, who suffers from a painful condition called hyper-mobility syndrome which meant her schooling was interrupted by surgery.
Despite being told she would never amount to anything, and that pure science "wasn't for girls", she is now studying for a master's degree in chemistry and runs GlamChem — a charity to encourage girls to study science.
Amy said: "It means everything to win this award. When I was 17 I had nothing going for me, I had no confidence, I'd never have thought this would happen."
Amy plans to qualify as a teacher and continue to expand her charity.
The president's award, given out by Niace president Nick Stuart was won by McDonald's restaurants, which Mr Stuart described as "the unsung heroes of adult education" after the company supported 57,000 learners to complete qualifications in the past five years.
The British Army and Topps Tiles were also recognised as being outstanding employers, both winning a national employer award.
Brigadier Garry Morris told FE Week: "In the Army training is really important on a personal level and on an organisational level.
"Learning helps people perform better in their team and develop themselves, but it also helps to prepare them for when they leave the Army."
There were also awards for learning in the community — with an individual award going to Nurun Nahar Zorna-Hoque, 39, who improved her literacy, numeracy and IT skills, lost 10kg and got a job in a mobile phone shop through classes run by the Tower Hamlets Idea Store.
She started learning to help her children with their homework. Nurun said: "I feel confident because of my job — before I was lazy and struggled with my life."
She added: "I am proud because my children are proud."
Ahmed Kassam, a former learner on the Port of Tilbury pre-employment programme, which won the learning for work national project award summed up the evening, telling the audience: "Trust me, you're never too old to learn."
Carol Taylor, Niace deputy chief executive, said: "Awards are vital things for us to do — as adults, we don't often get told when we've done something really well, it's usually the opposite, so I think celebrating all of these amazing achievements is such an important thing for the individual.
"But I think it's also really important to everyone else involved, the colleges, providers, employers and government because these events also inspire us and give us the confidence to do more."
Main pic: Robert Nott and Niace chair Maggie Galliers