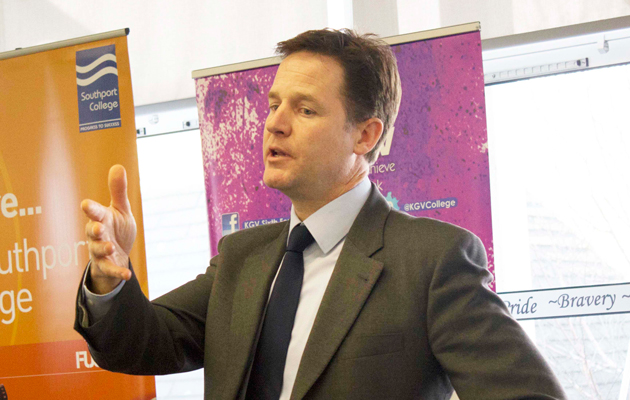 Deputy Prime Minister Nick Clegg has pledged to ringfence 16 to 19 education funding if the Liberal Democrats win the 2015 general election.
Mr Clegg said there would be protection for education spending from the age of two to 19 — "from cradle to college".
He made the announcement in his monthly press conference this morning, saying he would extend the protection currently given to funding for educating those aged five to 16.
He said the manifesto pledge meant an extra £10bn of education spending would be protected based on this financial year, rising with inflation.
He said: "Any parent knows that a child starts learning from the moment they are born and carries on learning all the way into adulthood.
"My vision is of an education system that starts early and keeps children engaged all the way through.
"That's why I believe we need to go further than the current protections for our schools.
"I can announce today that in the next parliament, Liberal Democrats will protect the full education budget, covering children from the age of two to the age of 19 — from cradle to college".
He added: "Money invested in our children is the best investment of all because education really can transform lives.
"We believe education should be properly funded because education is the very core of a liberal society."
For more, see edition 107 of FE Week (dated Monday, June 23).