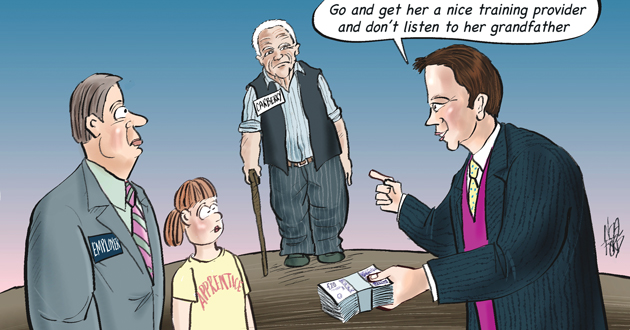 The Confederation of British Industry (CBI) has told the government that employers should be able to ignore apprenticeship reforms by "grandfathering" through existing funding arrangements, FE Week can reveal.
Its response to the Department for Business, Innovation and Skills (BIS) technical consultation on reforms recommended that employers be allowed to continue with effective practices.
It said that "in principle, we favour direct funding," but it said it also wanted to see "grandfathering for existing approaches that work well".
The CBI in effect wants providers to be able to keep receiving government funding directly, rather than switching to the new system, where cash would be routed through employers to buy training for their apprentices.
Neil Carberry (pictured front page), CBI director for employment and skills, told FE Week: "During the reform period, firms and training providers should be allowed to retain their existing relationships where apprenticeships are working well. This will allow the new apprenticeship system to be introduced gradually."
He added: "Where firms have a direct contract with the Skills Funding Agency this should be allowed to continue, where the companies choose to do so."
Reforming the apprenticeship funding system to give employers more control of the programme was put forward by entrepreneur Doug Richard in his review of apprenticeships, published in 2012.
A government consultation, which ran from July until October last year found that just 29 out of 366 respondents from businesses, providers and other stakeholders supported PAYE funding — but this was the main funding method put forward in the technical consultation which ran from March until May 1 this year.
The CBI's response stressed the importance of piloting any new funding methods, and called for further details of how the system would actually work to be published.
"Business needs reassurance from the government that sufficient time and resources will be committed to ensure that the system has been thoroughly thought-out and piloted, with decisions made on funding mechanism and funding policy together, not separately," it said.
It added: "Only with this experience will the details of the mechanisms be able to be properly scrutinised and assessed."
The position of the CBI echoes that of the Association of Employment and Learning Providers (AELP).
Stewart Segal, AELP chief executive, said: "Our view is that giving employers the choice of direct funding or funding through a training provider of their choice is the solution that will drive more employer engagement.
"We will continue to discuss these solutions with the CBI and other employer representative bodies because it is what employers want."
A BIS spokesperson declined to comment on the CBI response. However, she said: "The technical consultation closed on May 1 and received more than 1,300 responses from a wide range of respondents.
"These responses are in the process of being analysed and, as set out in the consultation document, the results and next steps will be announced in the autumn."