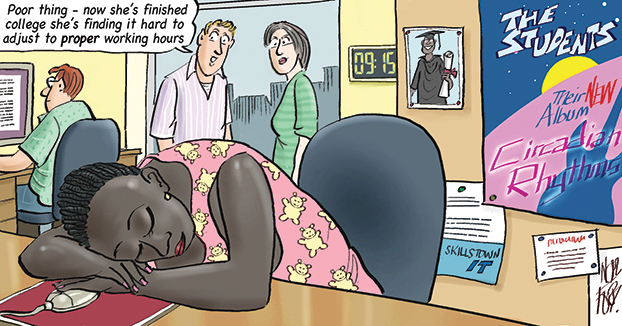 Fancy a 10am start at work? Most would, and that's what learners at North East Surrey College of Technology (Nescot) will be enjoying as it bows to "students' circadian rhythms".
Bosses at the 5,900-learner Epsom college are scrapping 9am starts from September in a trial that comes in response to research by the National Sleep Foundation and the University of Minnesota, which claims exam results improve if learners start later in the day.
A college spokesperson told FE Week: "The change will fit the timetable better to the students' circadian rhythms, enable some students, [like] those who live close enough and use public transport, to take advantage of off-peak travel prices, allow students to have catch-up, high-grades and employability workshops and help staff continue to improve communication, staff development and teaching and learning."
It is understood that the end of the college day will not be extended to cater for the later start, prompting concerns that break time is to be sacrificed instead.
The move follows that of Hampton Court House private school, in East Molesey, Surrey, which has moved to 1.30pm starts because teenagers have "a biological disposition to going to bed late and struggling to get up early".
It also comes after Skills Minister Matthew Hancock spoke about the importance of punctuality after he was criticised for missing a radio interview last year after he allegedly overslept.
A lot of our learners live more than half an hour away but will wait for the fare to be cheaper. I think it's daft
However, sources at Nescot, which was rated as good by Ofsted at its last inspection in 2010, have questioned the official rationale behind the later starts, with a worker who wanted to remain anonymous telling FE Week: "It's not overly popular with the staff, particularly as it's a vocational college and there's the idea of being self-motivated.
"We have construction courses where learners have to be on site at 7am. We just don't think it's going to work.
"We have a lot of issues with lateness already, and the Oyster card doesn't become cheaper until 9.30am. A lot of our learners live more than half an hour away but will wait for the fare to be cheaper. I think it's daft."
But the spokesperson for the college, which has a current Skills Funding Agency allocation of £5.98m, said: "Research articles were discussed at the Senior Management Team meeting and initiated the discussion with existing students and staff, resulting in the conclusion that this would be a beneficial way forward."
She would not comment on staff reaction, but defended the college's record on punctuality, and said a 10am start was not contrary to the idea of preparing learners for working life.
She said: "We have no more issues with punctuality and attendance than any other college in the sector. However, we are trialling a number of new initiatives to continue improving punctuality, and we hope the later starts will continue to improve this.
"All the staff at Nescot work extremely hard to prepare students for the world of work. This ranges from our work with the REED NCFE Centre, which helps students find and prepare for full and part-time work and apprenticeship opportunities to the work experience students on many courses do as part of their studies.
"We do not feel starting one hour later will in any way jeopardise all our hard work and success in this area. We are also conscious that not all businesses start at 9am — more and more businesses have working patterns such as flexible working, shifts and working from home."