Calls for college chief executive and principal pay levels to be published have emerged amid concerns the growth of group management structures could mean taxpayers are not getting the full picture of top college earners.
College accounts for the 2012/13 academic year, published this week by the Skills Funding Agency (SFA), only include pay and pension information relating to an organisation's highest-paid employee — usually the principal or chief executive.
But questions have been asked about whether the data shows the full picture with colleges increasingly forming groups that employ separate principals and chief executives and only declaring the pay of one.
Calls for a change to the system have been led by University and College Union general secretary Sally Hunt, but the SFA has argued that colleges are already required to publish their accounts.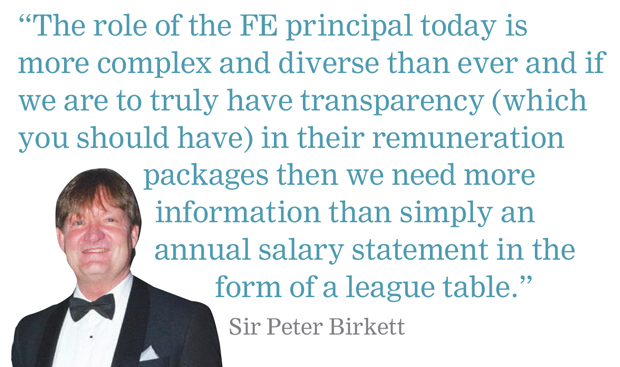 Ms Hunt said: "These latest accounts show that, as college staff were being offered a measly pay rise of 0.7 per cent in 2012/13, some of the top earning college leaders were enjoying pay rises of more than 30 per cent.
"It's absolutely unacceptable for those at the top to net huge pay increases while the staff who are working hard to teach and support students on the ground are having their pay held down.
"We're also concerned that these figures only show part of the picture.
"The highest earning person at each college is recorded in the data, but the move by many colleges towards group structures means that there are often several people in well paid leadership and oversight roles, and these figures aren't being published in the same way.
"We would like to see the SFA include the salaries for all senior leadership roles in their data reporting to provide greater clarity around how colleges are being managed, and so that all those in charge of FE institutions can be properly held to account."
An investigation by FE Week has revealed that in many cases, figures listed under "principal's salary" for large college groups actually refers to the chief executive's pay.
It means the pay of principals working under a chief executive is not published by the SFA.
An SFA spokesperson said: "The data collection process is part of a joint college reporting project led by the Association of Colleges (AoC) and includes the SFA, Education Funding Agency and sector representation.
Submission of this data does not remove the obligation on colleges to prepare a full set of accounts and an annual report on their activities.
"Colleges are required to make their accounts and annual report available to the public. In accordance with Charity Commission guidance, colleges are expected to make their annual reports and accounts promptly available on their websites.
"The accounts direction published by the Agency requires that colleges disclose details of emoluments of the principal, and of higher paid staff and senior post-holders in their annual accounts."
Newcastle College Group (NCG) has defended the salary paid to its former chief executive Jackie Fisher, who earned £215k in 2011/12 and £225k in 2012/13 — putting the college second in the list of highest paying colleges.
A spokesperson said: "The salary figures quoted by the SFA are for the chief executive of NCG, who for the 12/13 accounts was for the previous post holder, Jackie Fisher.
"NCG is not a single further education college, but a national training organisation with an annual turnover at the time of £179m from a variety of public sector bodies and commercial income.
"The chief executive heads a large, complex organisation with more than 3,500 employees in three colleges and two training organisations which work across the UK at more than 70 locations.
"This is not a traditional FE college principal's role, and comparable organisations in the private sector which we often compete against for many of our contracts, would pay considerably more."
He said Carole Kitching, the current principal of Newcastle College, earned between £100k and £110k a-year.
For some organisations, like Derby College, the data shows a saving, with previous principal and chief executive David Croll having earned £212k in 2011/12, and existing chief Mandie Stravino earning £168k in 2012/13. A spokesperson said they did not want to comment further.
In the case of The Manchester College, the figure of £187k shown in the data is also the salary of the chief executive, although not the one currently serving.
A spokesperson said: "The Manchester College is the largest FE college in Europe. As it currently stands our chief executive's salary is £180k and principal's is £130k. The £187k [in the accounts] was the previous chief executive's salary."
But in some cases, the salaries reported were not those of the highest-paid employee.
City College Norwich reported a top salary of £163k in 2011/12, which fell to £110,000 in 2012/13. The college has confirmed that the higher figure relates to Dick Palmer, who was principal and chief executive at the time but now heads up the overarching Ten (Transforming Education in Norfolk) Group, and the lower figure was for current principal Corrienne Peasgood.
The most recent record of Mr Palmer's salary as chief executive of the Ten Group is recorded as between £170k and £180k.
Top 10 college boss earners take home nearly £2m
England's ten highest-paid college bosses earned almost £2m in the last academic year, figures released by the government have revealed.
The Skills Funding Agency's annual college accounts for 2012/13 show that the 10 top earners in FE colleges and sixth form colleges earned salaries totalling £1,992,000 in that period.

The total amount of money paid in salaries to college principals has declined in recent years as colleges merge and form groups, the figures show.
The data shows that the total amount paid out in salaries to bosses at 338 colleges in 2012/13 was £40.636m, a 1 per cent decline on the previous year. This does not include pension contributions or other benefits.
The decline in overall payouts follows a decline in the number of colleges actually reporting to the SFA for their annual data release. In 2010/11, the number of colleges to report data was 348. This fell to 344 in 2011/12.
The data also shows the number of principals paid more than £200,000 a-year fell from eight in 2010/11 to six in 2011/12 and again to four in 2012/13.
According to the figures, the highest-paid college leader in the 2012/13 year was the chief executive of Barnfield College, a post which for part of that period was held by Sir Peter Birkett, who went on to become director general of the Barnfield Federation.
But Sir Peter said the figures were misleading and said he didn't recognise that amount as his salary while he was in the post.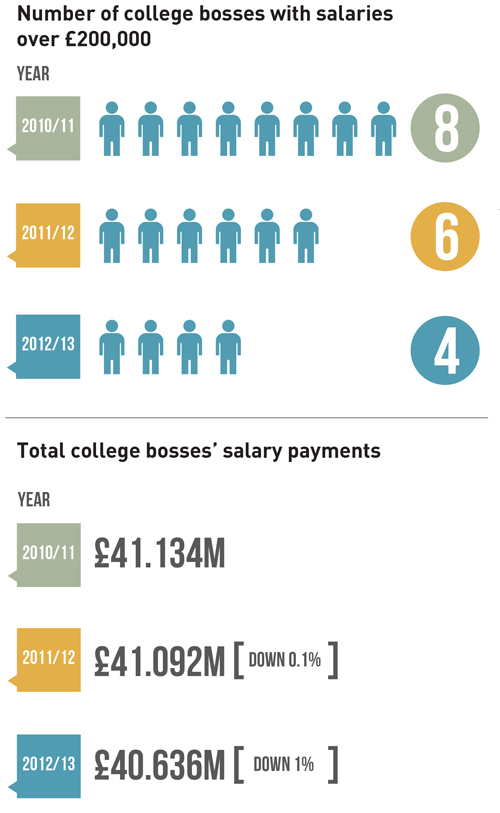 He said: "I ran a group that comprised of a college and six schools as director general of the federation — given size and complexity it is unrealistic to make direct comparisons with standalone FE college principals salaries. In addition I do not fully recognise the figure stated as the amount I was paid.
"Another point to note is that my salary was not paid solely by the college, it was paid through contributions of all the members of the federation – so the figure in the accounts is not the cost to the college – sharing costs provides better value for all.
"The role of the FE principal today is more complex and diverse than ever and if we are to truly have transparency (which you should have) in their remuneration packages then we need more information than simply an annual salary statement in the form of a league table."
Colleges themselves have also defended the salaries they pay to principals and chief executives, as has the Association of Colleges (AoC).
Martin Doel, chief executive of the AoC, said: "It is important to remember that college principals are chief executives of multi-million pound organisations, with a responsibility for thousands of staff and students. It is for college governing bodies to set their principal's salary based on individual circumstances."
It comes after higher education institutions across the country were criticised for failing to publish information about the amount paid to vice-chancellors. They came under fire from the University and College Union (UCU), which said the pay rises enjoyed by senior staff were an insult to other workers who had been forced to take a real-terms pay cut in recent years.
The union said vice-chancellors' salaries and benefits rose by an average of 5.5 per cent between 2011-12 and 2012-13.
The UCU has also been fighting for pay rises for staff working in the further education sector, after claiming in February that lecturers in FE colleges had seen their pay lose 16 per cent of its value since 2009.