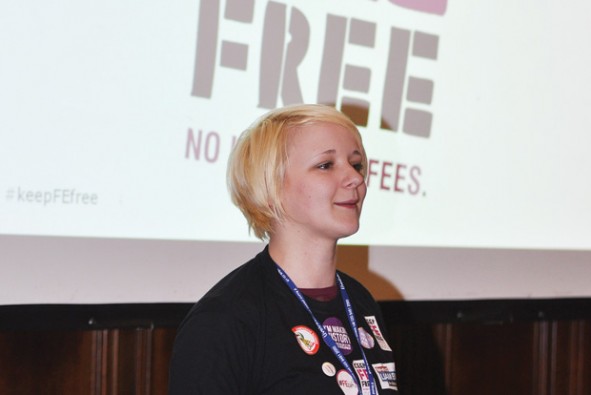 Toni Pearce, the first president of the National Union 0f Students (NUS) from a further education background, has been elected for a second term.
She finished more than 300 votes ahead of her nearest challenger at the NUS annual conference in Liverpool.
A former president of the students' union at Cornwall College, Ms Pearce has earned a reputation during her first year in office for being an outspoken champion of FE.
Speaking to the conference, she said: "Never let anyone tell you that we're not already a fighting, campaigning, winning movement."
She also shared her vision for "a student movement that's more representative than we've ever been… A student movement that listens, that campaigns from the classroom to the boardroom – on the streets and in your communities".
Ms Pearce won 454 votes, while Labour candidate Aaron Kiely received 150 votes.  University of London Union vice president Daniel Lemberger Cooper won 90 votes, while UKIP's Jack Duffin won just 18 votes. 16 delegates voted to re-open nominations.