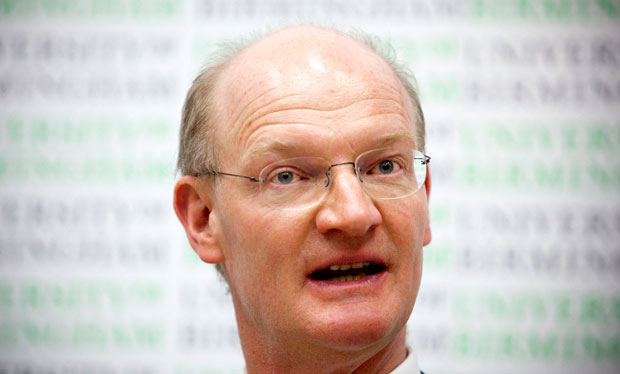 Universities Minister David Willetts wants FE colleges to offer more higher education courses.
He has given the Higher Education Funding Council for England (HEFCE), Skills Funding Agency (SFA), FE colleges and Local Enterprise Partnerships (Leps) until the autumn to identify "cold spots" across the country where there is a lack of higher education provision.
The minister (pictured) asked, in a letter to HEFCE chief executive Professor Madeleine Atkins, for the council to draw up proposals for "coherent tertiary offers in areas where there is demand".
FE Week understands this could involve colleges offering more higher education courses and opening new campuses in partnership with universities.
It has been made possible by the government's decision, announced in Chancellor George Osborne's autumn statement, to lift of the cap on higher education student places from 2015/16.
In the letter dated April 3 (Thursday), the minister said: "Historically, artificial constraints on student numbers prevented the development of new provision and facilities in cold spots. Number controls were a barrier to inspiration.
"Lifting the cap on student numbers from 2015/16 removes this barrier. It allows institutions to increase their fees income where they can develop provision to meet previously unmet demand."
He spoke on the same theme yesterday at the Universities UK conference on the economic impact of higher education.
The minister said: "I have today written to HEFCE to look at how we can do everything possible to encourage new higher education institutions in obvious cold spots like Yeovil and East Anglia.
"With student number controls being wiped out, the government wants to see more higher education campuses being set up across Britain.
"I want HEFCE to work with universities, FE colleges and Leps to develop plans for university campuses where they are most needed.
"Our message is clear. There are no barriers to setting up a higher education campus. If this is your town's dream, we want you to pursue it."
Nick Davy, higher education policy manager for the Association of Colleges, welcomed the initiative.
He said: "Several reports, from both HEFCE and Universities UK, have suggested that there are several regions in England that lack higher education opportunities.
"AoC would support a concerted approach to addressing the cold spots and member colleges such as Blackburn, Blackpool, Havering and Grimsby have already successfully addressed this issue.
"David Willetts has been clear both before and since he became a minister that he wishes to see diversity in the institutions providing higher education and this letter is a natural extension of that belief.
"Colleges in these cold spots are looking forward to working with HEFCE to warm them up."
This letter is an encouraging recognition of the vital role FE plays in local growth, and of the fact that HE provided by Colleges is often the most attractive offer for local communities.
A 157 Group spokesperson said: "We strongly support the exhortation for colleges and universities to build on their already existing strong partnerships and will be pleased to support HEFCE as they develop their detailed guidance in response to this letter."
Yvonne Hawkins, associate director at HEFCE, said: "Following the minister's request, as a first step we will be revisiting and updating work we did in 2008 to identify higher education provision cold spots, recognising that the higher education landscape has changed and diversified in the past few years.
"At its heart, this is about ensuring choice and opportunity for young people and other learners, and we look forward to working in partnership with higher education institutions, FE colleges, the SFA and other organisations."
The SFA declined to comment.