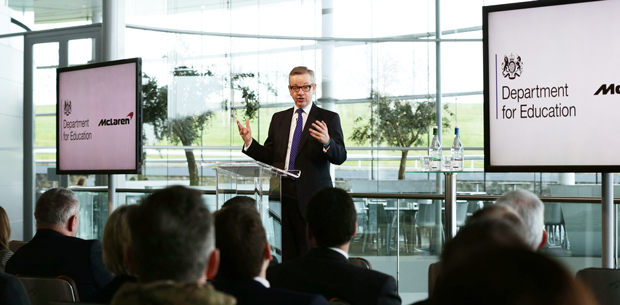 Routing apprenticeship funding directly to employers will mean providers can no longer "force employers to take whatever training they happen to want to offer," Education Secretary Michael Gove has said.
In a speech at the McLaren Technology Centre, in Woking, Surrey, today on the future of vocational education, he praised the apprenticeship review carried out by former Dragon's Den investor Doug Richard, describing his work as "brilliant".
Among Mr Richard's recommendations taken forward by the government was that the funding of apprenticeships should be rerouted, bypassing providers and instead going straight to employers. He suggested using the tax system to do this, which was also taken on by the government as part of its reform proposals.
Mr Gove said: "Following his [Mr Richard] recommendations we're introducing reforms to put employers in the driving seat — giving them control of more than £1.4bn invested in apprenticeships by the government so that employers can demand higher quality from whatever training provider they choose, rather than giving it to providers who force employers to take whatever training they happen to want to offer.
"We're getting rid of those study requirements which were inserted by self-serving lobby groups, bureaucrats and trade unions and which have nothing to do with preparing young people for the modern workplace.
"Critically, we're getting businesses to design the quality standards which mark out an apprentice in any field as properly qualified. They are leaders in their field and will ensure that the apprenticeship programme at last serves modern business needs rather than politicians' vanity."
The Tory MP had opened his speech by saying: "We need to end the artificial and damaging division between the academic and the practical — the apartheid at the heart of our education system.
"We need to ensure that more students enjoy access to the academic excellence which will make a practical difference to their job prospects in a fast-changing world.
"And we need to ensure that practical, technical and vocational education is integrated with academic learning to make both more compelling for all students in our schools, and more valuable in the new labour market."
He added: "It is striking that the jurisdictions which have seen huge improvements in their schools in recent years — such as Poland — have been those which ensure all children have access to a stretching academic curriculum until at least the age of 17.
"No matter what path students choose — whether academic or vocational – they all share a core academic foundation on which to build."
And, just months after Mr Gove's Department for Education (DfE) announced it would be cutting the level of funding for full-time 18-year-olds to 17.5 per cent less than that of their 16 and 17-year-old classmates, he said: "We changed the funding of education for students between the ages of 16 and 18 to make it equal for all, whatever qualifications and courses they took — overturning a status quo which favoured the purely academic.
"We also changed the demands we make of students after the age of 16, so all students — whether they are studying more practical or more academic courses — are increasingly expected to pursue maths beyond GCSE.
"And any students who fail to get maths and English GCSE by the time they're 16 must, whatever path they're taking, pursue both subjects until they secure those qualifications. Without those basic intellectual accomplishments, the world of work is increasingly out of reach for students."
He went on to outline the government's adoption of policy following the review, three years ago, of 14 to 19 vocational education by Professor Alison Wolf.
"She recommended changes to practical and technical qualifications — to make them as rigorous and demanding as academic qualifications," he said, adding: "Now, every qualification which counts in our schools and colleges — academic or technical — must have a rigorous marking structure, external assessment, robust content and real stretch, or must be redeveloped to meet that standard.
"As a result there is — at last — the prospect of a genuine equality of worth and parity of esteem between all qualifications."
Mr Gove further said the government had "sorted out the nonsense" of "arcane, confusing and unnecessary regulatory burdens" preventing firms providing work experience.
"Last year the Health and Safety Executive stripped away unnecessary health and safety rules, the Home Office removed the need for criminal checks on employers offering under-18s work experience, the insurance industry — at the government's request — confirmed that young people on work experience will be covered by employers' liability insurance, and the DfE introduced new funding rules that encourage schools and colleges to arrange post-16 work experience," he said.
"We've changed the law so that for most businesses, so long as you behave reasonably, you have discharged all your duties under health and safety legislation."
Top: Education Secretary Michael Gove gives a speech at the McLaren Technology Centre, in Woking, Surrey, on the future of vocational education. Pic:  PA