Six months after the government revoked regulations requiring that teachers at colleges and independent learning providers be qualified, FE Week reporter Freddie Whittaker looked at whether providers now had their own requirements in place.
At least 94 per cent of England's colleges and independent learning providers (ILPs) will only take on qualified teachers or staff working towards qualifications six months after the government removed legislation, an exclusive FE Week survey has suggested.
The government scrapped the statutory requirement for teachers, lecturers and tutors in FE to obtain Qualified Teacher Learning and Skills (QTLS) and Associate Teacher Learning and Skills (ATLS) qualifications in September.
The move followed a review of professionalism in the sector by Lord Lingfield and in effect removed the national guarantee for FE and skills learners that their teachers were qualified.
Speaking at the time, he said it would "help free the FE sector from unnecessary regulation and bureaucracy and enable it to take responsibility for its own professionalism".
Throughout the review and afterwards, the Association of Colleges was supportive, with a spokesperson saying: "It is appropriate that the type and level of qualification for different staff should be determined by the college."
And now an FE Week survey of some FE colleges and ILPs picked to give geographical spread, has suggested that most still require their teachers be qualified, or train up to a specific level in their first few years of work.
Of the 19 providers that responded to the survey, 17 required unqualified teachers to work towards a qualification within a given timeframe and one said it simply did not employ unqualified teaching staff. One provider declined to comment.
There was no response from the remaining nine that were contacted. The results would indicate that at least 94 per cent of providers will only take teaching staff already qualified or working towards qualification.
The results have been welcomed by the Institute for Learning (IfL), which still encourages teachers to gain qualifications on the job.
Jean Kelly, IfL director of professional development, said: "It is encouraging to learn from the FE Week survey that most providers would employ unqualified teachers only if they were working towards achieving a teaching qualification in a given timeframe or not employ them at all.
"This stance is perhaps a positive legacy of the 2007 regulations, which led to an increasing proportion of teachers in FE being qualified — by 2011, around 80 per cent of college teachers were qualified and 19 per cent were working towards qualification.
"This was reassuring for learners, parents and employers, and we sincerely hope that the trend continues, in spite of the government's policy reversal."
She added: "We persistently make the case, backed by evidence, for teachers and trainers across FE and skills to have teaching qualifications.
"Most teachers in FE train to be teachers on the job, and before the 2007 regulations were revoked, new entrants to teaching had a year in which to complete a very basic introductory award for teaching, and five years to gain the certificate or diploma.
"The latter timescale was originally devised with part-time teachers and trainers in mind, and most people can achieve this within three years.
"We support colleges and providers insisting that new teachers achieve teaching qualifications within two or three years, and that all teachers undertake continuing professional development in their subject or vocation as well as in teaching methods, to ensure that young and adult learners receive the highest possible quality of education and training."
The revocation of the government's teacher qualification requirement was said to pave the way for the role of the Education and Training Foundation.
A spokesperson for the Department for Business, Innovation and Skills said last year the foundation, "would define and promote professionalism in the sector and ensure the availability, scope and quality of initial teacher training. It is for individual institutions to decide what teaching qualifications are appropriate for their particular situation."
He added: "The highest quality of teaching is paramount to the success of each college and we trust FE institutions to employ those they believe to be best qualified for the job."
Foundation chief executive David Russell told FE Week he thought it was "rarely a good idea" to have "an absolutely hard and fast rule" on teacher qualifications.
He said: "My own position is that you want the considerable bulk of your teaching workforce to be qualified. Whether it necessarily makes sense to say that absolutely everyone must always be qualified from day one, I would say it's rarely a good idea to have an absolutely hard and fast rule."
He said he recognised people were divided on the issue, and said he had heard from college principals who called for clear regulations and others who said it should be up to them to make sure teachers were of the right standard.
Among those in the latter camp has been Ian Pryce, principal at Bedford College where unqualified teaching staff are employed only if they work towards a qualification.
"We don't agree that qualifications should be a matter for government, we want to see teachers take charge of their profession, and allow employers to be free to set their own policy in this area," he told FE Week.
"This approach will lead to a more effective and more responsive system. Professional qualifications should denote excellence and not be just a hurdle."
A BIS spokesperson said: "Colleges and other FE providers determine which qualifications they want their teachers to hold, and how they achieve them. This is in line with the government's policy of freedoms and flexibilities for the sector.
"The new diploma in education and training is set to become the minimum standard for all new teachers in the sector. All providers and potential teachers are free to decide how this initial teacher training is to be achieved either before or during employment.
"We remain committed to supporting the sector to recruit appropriately qualified teachers and up-skill existing teachers."
Click image to enlarge.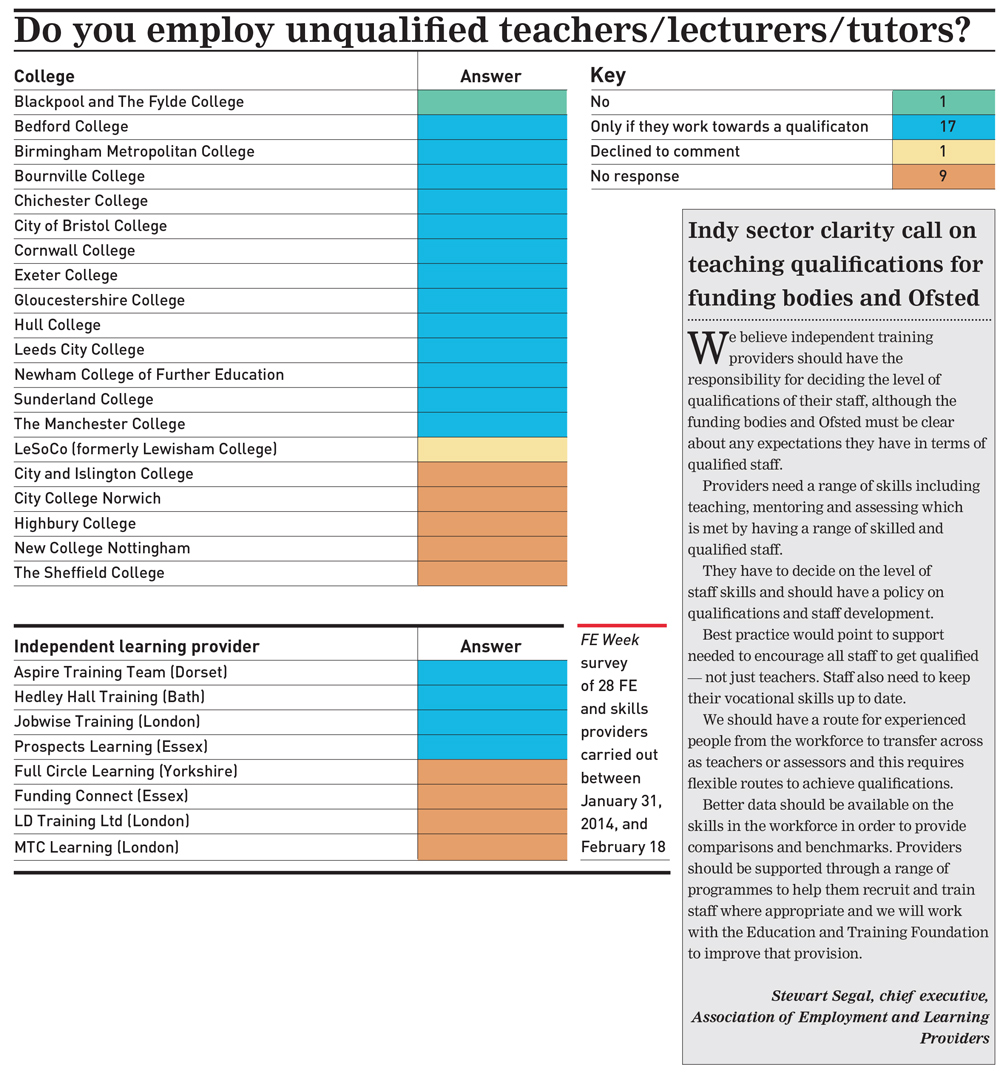 ———————————————————————————————————————————————————–
What the providers say…
Blackpool and The Fylde College:
"Our policy at B&FC is that teaching staff are all required to hold the appropriate qualifications."
Chichester College:
"We are happy to employ unqualified lecturers if they hold the appropriate knowledge needed to meet the requirements of the teaching delivery.
"We would expect all lecturers to undertake a full teaching qualification equivalent to a certificate in education or PGCE within a specified timescale once they have joined us.
"The specific details regarding obtaining teaching qualifications are currently under review by the Professional Development and Teacher Education teams but the proposed timescale for completion of the full qualification is three academic years from joining the college."
Cornwall College:
"We expect teachers to be appropriately qualified in the subject they are teaching, and be qualified to teach. Both requirements will depend on a mixture of experience and qualifications.
"For teachers in a full-time teaching role we normally expect post holders to hold or be working towards a certificate in education, PGCE or equivalent. In other roles, teachers and trainers are expected to hold or be working towards other relevant teaching and training qualifications.
"We contract staff to undertake their teaching qualifications, once in employment, within a two-year period, if they do not already hold them. The exception to this is specialists who work very few hours."
Exeter College:
"Selection procedures are rigorous and include assessment of teaching ability, vocational knowledge and interpersonal skills. Any appointed person undergoes a Disclosure and Barring Service check before they are able to work unsupervised with students. We ensure that these members of staff receive the relevant in-house teacher training at our cost (for a certificate in education or Preparing to Teach in the Lifelong Learning Sector (PTLLS) qualification) and also have timetable remit to support them to become qualified."
Gloucestershire College:
"Despite the change in legislation, we still require all teaching staff to achieve a teaching qualification. In order to support this, we provide financial assistance of between 50 and 100 per cent
remitted time as well as mentoring support."
Hull College Group:
"Our policy is to advertise for vocationally-qualified and competent staff who will typically hold a relevant qualification at the level above which they will be teaching. In respect of teaching qualifications, this is listed in all lecturing role descriptions as an essential criterion
to be appointed or to achieve within two years of appointment."
Leeds City College:
"We are currently looking at our policy with regards to teaching staff having to obtain an appropriate teaching qualification. As part of our commitment to an outstanding provision of teaching and learning, we want all relevant staff fully qualified to the required level or working towards an appropriate qualification."
Manchester College:
"We expect all our teachers to be professionally qualified, however in certain curriculum areas unqualified applicants may be appointed to teaching posts because they have the right vocational expertise and knowledge, and through the selection process demonstrate characteristics of good teachers.
"Successful applicants will then be required to gain a teaching qualification within an agreed time period. The college will support them to achieve this through the college's own teacher education provision."
Newham College:
"Our position is that all academic teaching staff are required to have a full teaching qualification, or to undertake one within two years. This is monitored at executive board level."
Sunderland College:
"Lecturers are required to hold a relevant teaching qualification as identified on appointment. If appointed subject to gaining a relevant teaching qualification they will remain on the unqualified points of the salary scale until such time this has been achieved.
"It is expected they will gain a relevant qualification within two years of appointment or within an agreed timescale. In the event they fail to secure requisite qualifications within the period specified on appointment
the college may terminate employment."
Jobwise Training operations director
James Pearson: "In general we do require our tutors already hold teaching qualifications, however if they move into a teaching role from a non-teaching role or they have previously been a teaching assistant that has shown an interest in progressing into a full-time teaching role, we would then put them through the relevant teaching qualifications.
"We are not opposed to training up our own tutors, it's just a case of finding the right person and having enough resource to support them."
Prospects Learning Foundation chief executive Neil Bates:
"We require all new staff to have a Diploma in Teaching in the Lifelong Learning Sector (DTLSS) within two years of starting with us.
"Until they achieve this they are associate instructors and then move to qualified instructor status. We also have an advanced practitioner status which normally requires a certificate in education or QTLLS."