A controversial funding rate cut for 18-year-olds was the subject of a lively protest and crunch talks when Skills Minister Matthew Hancock visited MidKent College last week to appear on Question Time.
Members of the college's Students Union (SU) formed a flag-waving picket line at the college's Medway campus, in Gillingham, on Thursday night while BBC cameras rolled.
And although Mr Hancock did not visit the demo, he did meet with SU members and college principal Sue McLeod to discuss the funding rate cut for 18-year-olds. Full-time learners in the age group will be funded at a level 17.5 per cent lower than that of 16 and 17-year-olds. At current levels that would mean a cut from £4,000 to £3,300 a year.
Matt Stanley, SU president and level three diploma student, told FE Week: "We felt it was a really unfair funding cut, and something which affects the most vulnerable students.
"He [Mr Hancock] wouldn't come and speak to us unfortunately, but he did meet with some of our members and the principal."
Ms McLeod said: "I was keen to stress to the minister how deeply unfair the planned funding cut is for FE colleges, and the negative effect it will have on the young people of Medway and Maidstone in particular.
"We have more than 1,000 students aged 18 at the college, so a funding cut of £700-£800 per head equates to about £800,000 in total.
"Mr Hancock appeared sympathetic to our situation and said he regretted the decision, adding that the government would seek to assist those colleges that are hardest hit, which provides us with some hope for the future.
"However, we will continue to campaign on behalf of 18-year-olds from across Medway and Maidstone who are being unfairly targeted by this poorly-researched plan."
The students also protested about the sell-off of student loans, but the funding rate cut, along with concerns about an official impact assessment justifying the move, has been raised with Mr Hancock on numerous occasions by colleges, students and fellow MPs, with a number questioning the skills minister in parliament.
Among the most recent to question the cut was Lib Dem MP Tim Farron, who wrote to Mr Hancock asking if, "he will consider reversing the reductions in funding for full-time education places for 18-year-olds announced by his department in January 2014".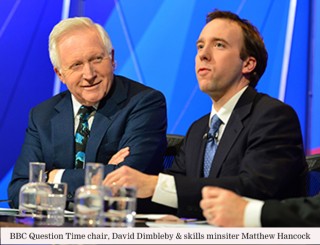 Mr Hancock wrote back: "We have to make the funding reduction for 18-year-olds in order to live within the Department for Education's funding settlement at the spending round 2013, which was reduced at the autumn statement of December 2013.
"The published impact assessment of the reduction in funding for 18-year-olds sets out why it was the least detrimental of the options for savings that we considered.
"We will consider whether we can afford to introduce measures to mitigate its impact on individual colleges."