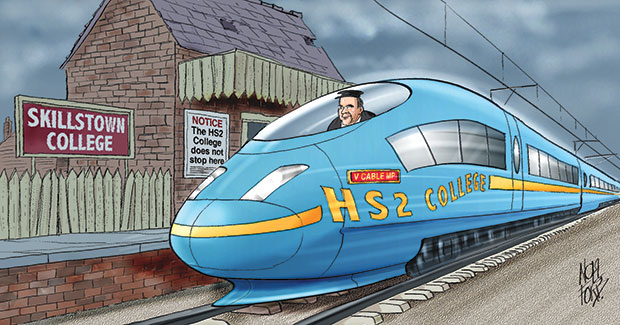 Government plans for the first new FE college in 20 years, to train engineers for the £50bn high speed two (HS2) rail link, have come under tough scrutiny from sector leaders.
The Department for Business, Innovation and Skills (BIS) and the Department for Transport (DfT) have unveiled proposals to train workers for the line that will link Birmingham and London by 2026.
The exact details of the college — which has been reported nationally as costing £20m — remain unclear, with the DfT and BIS yet to decide where it will be sited.
Sector leaders questioned whether what could potentially be the first new college since 1993 was actually needed, while it remained unclear who would run the institution.
It is also understood the deal will not involve simply bestowing incorporated college status upon an independent learning provider currently in existence.
Business Secretary Vince Cable said: "It is right that a large scale investment in bricks and mortar should also come with investment in the elite skills which will help build it.
"That's why this government is launching the first FE college in over 20 years, which will train the next generation of engineers in rail, construction and environmental studies that this country needs to prosper."
Association of Colleges president Michele Sutton said: "We are pleased to hear of the government's plans for the first new FE college in 20 years.
"We believe this recognises the value and strengths of autonomous colleges which provide technical and vocational education closely aligned to the needs of industry.
"The fact that the new college will be focussed on providing much needed skills and technical expertise in industry-standard facilities is equally important and welcome.
"Colleges are already delivering this kind of vocational training, therefore we are keen to learn more of the detail, particularly in relation to value for money and the financial alternatives such as existing colleges also taking on the task of meeting the needs of HS2 by upgrading or adapting existing facilities."
Association of Teachers and Lecturers general secretary Dr Mary Bousted said: "It is worrying that existing colleges allegedly don't have the capacity or expertise to train sufficient numbers of young adults and adults with the skills needed.
"The government should be helping FE colleges to provide engineering and requisite skills. The need for an HS2 college may show there should be a review of how vocational education and training fits into wider industrial policy and skills development.
"The government seems to think that inventing new schools and colleges is the answer to everything."
It is expected that HS2 will create up to 2000 apprentices during the lifetime of construction.
The college is expected to be open by 2017, when construction of HS2 is due to begin. Tracks to Manchester and Leeds will be built in a second phase, to be completed by 2032-33.
A BIS spokesperson said: "BIS and HS2 Ltd intend for the college to be a new institution and for it to apply for incorporated status — if successful HS2 Ltd will be strongly represented on the board of governors.
"The college will operate in partnership with existing FE and higher education providers across the UK to ensure that the skills needs of HS2 are met.
"Our vision is that the college will become a world leader in the provision of training for High Speed Rail.
"We believe that there will be strong export potential for the college once established.
"The college will also provide engineers for many other projects within the rail industry and beyond. It will not be solely reliant on HS2 for its business."